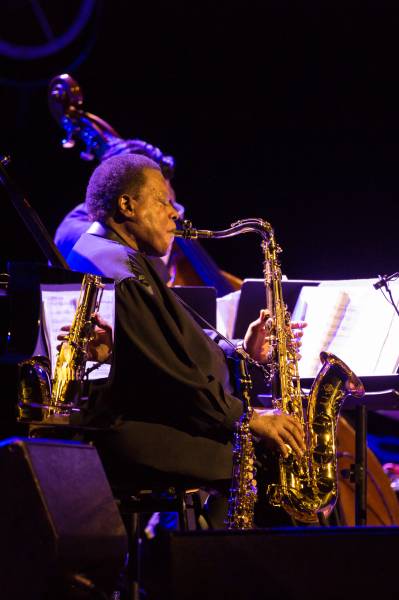 He always thought differently. At high school he wrote "Mr Weird" on his clarinet case. No one argued. Wayne Shorter's verbalised thoughts come out like his saxophone lines: squalls of rapid–fire ideas, some cryptic asides, and big pools of lucid silence while he lets what he's said sink in. His humour is delivered completely deadpan and his answers can quickly shoot off at tangents from the question to flit between knots of quite diverse ideas. To Shorter they're all one: music and talking, learning and playing, faith and life.
His career surged when joined one of the most acclaimed versions of Art Blakey's Jazz Messengers in 1959, going on to be the last piece in the puzzle of the revered 1960s Miles Davis Quintet, as well as its main composer. He left Miles to form the equally influential Weather Report, and in 2000 launched his current Wayne Shorter Quartet.
At 82 Shorter is neither treading artistic water nor resting on past glories. He says he consciously pushes himself out of his comfort zone "because I'm still curious about the nature of this whole mystery of life." Part of that is looking for new ways of expressing himself. "Maybe the effort to visit this place called originality is possibly the best 'thank you' one can offer to this mystery of life," he says. "And being involved with something that's just bigger than us, meaning it's bigger than a control that can consume us called ego. I think that ego should serve us. We should not serve our ego."
Shorter's exceptional quartet is completed by pianist Danilo Perez, bassist John Patitucci and drummer Brian Blade, all celebrated band-leaders. Part of the glue holding them together – Shorter calls them a "family" – is his being one of only a handful of people in jazz history whose reputation is based as much on composing as playing.
He wrote his first piece for a girl he was trying to impress. It didn't work. "She had eyes on the rich and famous," he laughs. As a child Shorter went from painting and drawing to music, initially playing clarinet, then saxophone. "I found the doorway to adventure was always there through the arts," he recalls. "I knew it would not depend on this person or that person, this cutie-pie or that dream-queen or anything like that. I knew that was going to be a solo adventure." He listened widely, and at 15 discovered Charlie Parker, Thelonious Monk and Dizzy Gillespie.
He loved jazz's interactivity and soul-baring, and remembers Art Blakey saying, "You can't hide behind your instrument." "It's the same thing with actors, too," Shorter continues. "I like what Meryl Streep said when someone asked her, 'Ms Streep, when you do a new role, do you put on another mask all the time?' She said, 'No. I take them off.'"
In assembling this band he wanted players who were open to continuing to learn of life, music and the challenge of being in the moment, the same qualities Miles Davis sought with classic quintet. "His humility for sincere endeavour in the arts was always like a little child," Shorter observes. "But he protected that child with solid armour."
Shorter cherishes the Miles memories. After talking about what he calls "the mission" – "the challenge of becoming eternally more human, which I think is a part of this ultimate adventure that we call life" – he says, "Whenever you got close to talking about something like that with Miles, do you know what he would say? We'd be talking about walking on air or doing something that sounds ridiculous, and he would say, 'Why don't you play that?' He would ask, 'What would it be like to play music that doesn't sound like music?' Another one was 'What would be it be like if you played your instrument as if you don't know how to play it?' I have a tape of Charlie Parker giving a music lesson to a kid, and the kid says, 'Mr Parker, do mean I have to learn all these scales?' And he'd say, 'Yes. And once you learn them, forget 'em!'"
He quotes Mark Twain – "The two most important days your life are the day you are born and the day you find out why" – and then says, "We're going to try to do all this on stage!"
Good luck with that, I say.
"Thanks! We'll need it."
I suspect not.