Blue Mountains Theatre, August 25
7/10
We're slow learners. For decades our worst bushfires have been declared "unprecedented", the unmistakable trend being that they're worsening. Hence the title of Campion Decent's new play (following his related 2008 work Embers). Since 1939, he tells us, there have been 57 official fire-related inquiries, reviews and royal commissions. These started correlating fires with climate change last century.
Commissioned by Wodonga's Hothouse Theatre and directed by Karla Conway, Unprecedented is as searing as its subject matter. Six actors play some 60 roles: characters who are variously funny, asinine, moving, knowledgeable and impressive. But the real protagonists are fire and climate change; the real story our collective inaction.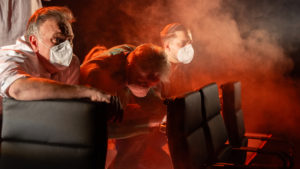 The dialogue is largely drawn from the public record, whether that be the cartoonish inanities of Scott Morrison ("I don't hold a hose, mate"), the cacophony of lies from conservative pollies and Murdoch media, or the wisdom of the Emergency Leaders for Climate Action and such Aboriginal experts as Russell Mullet. One could argue the play would be even stronger had Campion resisted the temptation to lampoon the Australian Right and its vacuous cheer squad, but all he does is let them repeat their own idiocies.
Along the way we learn about cultural burning, fuel reduction arguments, and how mega-fires generate their own weather patterns and thunderstorms. An especially confronting scene comes when Ari Maza Long plays a farmer who had to learn the hard way how to euthanise his scorched sheep, cattle and horses in the 2019-20 fires – and then how to dispose of their carcasses. His conclusion? He'll do it better next time.
The horrors of Mallacoota and Kangaroo Island are revisited, along with the plight of a couple, played by Noel Hodda and Rachel McNamara, whose flower farm, house, outbuildings, machinery and animals were destroyed. Then there's the further frustration and distress of insurance claims.
"Unless we start to feel something about this issue, nothing's going to change," says one character. That's the play's point: to engage us emotionally as well as intellectually, and it works. Craig Alexander, Lisa Maza and Billy McPherson complete a cast that could tighten up its delivery, but that brings complete commitment to the work. It tours to the Central Coast's Laycock St Theatre on August 30, but doesn't enter the Sydney Basin. Let's hope the fires don't, either.