City Recital Hall, March 3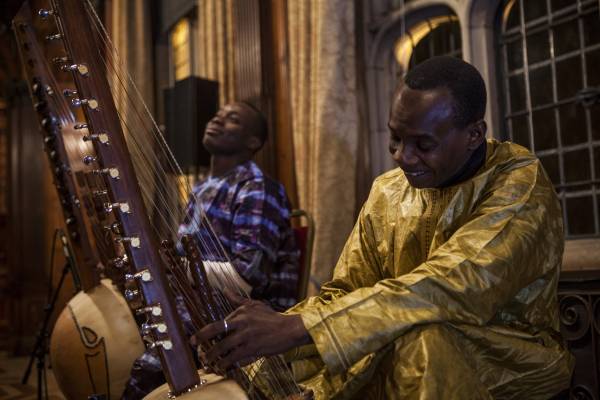 As has happened for countless generations, Toumani Diabate learned the kora from his father, Sidiki, and, in turn, taught his eldest son, also Sidiki. No one knows exactly how many centuries old the kora is, but what is undeniable is that all the accumulated knowledge of virtuosity on this 21-string lute-shaped harp finds its apotheosis in these two players.
Sidiki began alone, and the underlying groove was so light and soothing that it seemed the music was riding not so much on a beat as a cushion of air. But then the kora is intrinsically an instrument of not just the air but of the ether. It conjures a celestial vision that hovers far above the horrors of the maniacal Islamic fundamentalists who tried to shut down culture in Mali, the Diabates' home and the cradle of West African music. Yet with its melodic density and irresistible momentum perhaps its closest western cousin is to be found in ragtime and boogie woogie piano – of which it is probably an ancestor!
On his fourth Australian visit and resplendent in purple robes Toumani then joined his son. Alas, he forgot to press a crucial button that meant his kora lacked presence through the PA for the first two duets. When this was rectified what joy lay in the rapport and interaction between the pair, and what fascination in their contrasting styles.
Toumani, the master, had the more idiosyncratic phrasing, a more understated approach to improvising and a more traditional trebly, ringing sound. Sadiki's sound was rounder and closer to a harp, his melodic ideas had more overlaps with those of a rock-based electric guitarist and his bewildering virtuosity redefined what is possible on the instrument.
For the first encore they were joined by the Sydney-based Malian guitarist Moussa Diakite and local kora player Miriam Lieberman. More compelling was the second encore when just the duo played the exquisite Lampedusa, a lament for African refuges drowned in the Mediterranean.