Kings Cross Theatre, December 7
7/10
There's no grudge like a childhood grudge. For the young, injustice is uniquely their cross to bear, rather than being all but universal. When a history teacher caned the 16-year-old me after wrongly accusing me of smoking, I'd lie awake at night in tear-stained fury, plotting my revenge, which stretched as far as running the ogre over on the school pedestrian crossing. The Wasp is British playwright Morgan Lloyd Malcolm's 2015 dark – and sometimes darkly humorous – variation on this theme.
Heather and Carla were primary school friends, until Heather felt she was betrayed, after which Carla preyed upon her with a stinging viciousness that haunted Heather for the next two decades. Carla, by contrast, had long forgotten it all. Equability was the norm in Heather's home, whereas Carla had seen her dad her hit her mother so hard that an eyeball popped out. Violence, like everything, can be relative.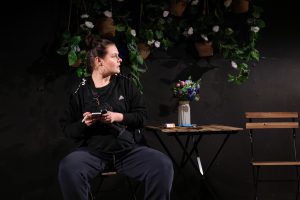 Malcolm's plot unfolds in three acts, and her essential thesis is enunciated by Heather in the third: "There is an impact to everything a person does. Even the simplest moment. Even a single word can have an effect. It could be that this has only a miniscule effect or it could be bigger. I just kind of wish we could all be nicer to each other."
As if.
This Akimbo and Co production, directed by Becks Blake, retains the play's English setting, and has Cara Whitehouse as the vengeful, toffee-accented Heather, and Jessica Bell as the cruelty-accepting baby factory that is Carla. Bell offers a performance that grips you by the throat – as her character may have done in the schoolyard) – right from the start. She inhabits a Carla of whom you, too, would be scared: a latently menacing physical presence ostensibly iced with a heart of gold-leaf tolerance. Every syllable Bell utters aches with truth, and she shares with Whitehouse a squirming awkwardness when Heather orchestrates the pair's first meeting for 20 years.
From then on Malcolm keeps springing surprises with the punctuality prescribed in all good script-writing textbooks. Carla initially thinks Heather wants her to carry the child the latter can't have. In fact, Heather seemingly wants Carla – whom Heather once saw murder a pigeon the slow way – to bump off her husband, for the twin sins of philandering and being boring.
We can all agree that this is not unreasonable, except Heather is being less than truthful, and proves capable of malignant behaviour almost on a par with that of the tarantula hawk, the wasp of the title (with which the unseen husband is especially enamoured).
Whitehouse has the more difficult role, and only intermittently rises to the utter conviction that is routine for Bell. More instantly redressible, she is sometimes too soft. Fault-lines in her performance become more apparent in the third act, part of which, for reasons best not disclosed, is a Heather monologue. But the problems with the final act runs deeper. The writing starts to feel it's artificially servicing the plot, and Blake, whose direction is as tight as a compressed spring earlier on, lets the pace slacken, just when it needs to accelerate.
Nonetheless, this is an intriguing psychological thriller that, with some quick tweaks, could be exceptional, and it is well served by Axel Hinkley's design, Johnny Yang's jittery music and Martin Kinnane's lighting. It's also the last production at Kings Cross Theatre, a little crucible into which has been poured several other molten productions across the years.