Sport for Jove, Bella Vista Farm
December 16 until December 30
8/10
Carlo Goldoni played with puppets as a boy, with people as a man. Having Moliere as his model he revolutionised Italian comedy in the middle of the 18th century, hoisting it beyond the stock characters of the Commedia dell'arte tradition, with The Servant of Two Masters representing the apotheosis of his art. Its humour has survived migration from Venice, transposition across the centuries, and countless translations and adaptations, including One Man, Two Guvnors, Richard Bean's hilarious adaption for the UK's National Theatre that toured here in 2013.
This new adaptation by George Banders and Francesca Savige (who also jointly directed the production), tends, like Bean's, to broaden the humour and shrink the wit, making it ideal outdoor fare for Sport for Jove's summer season. No projection can be too exaggerated, no gesture too big. Hamming is not just part of the humour here, it is as though the whole production has been wrapped in prosciutto.
Goldoni's fantastical plot contains the seeds of many of the laughs, with Truffaldino (George Zhao), the servant of the play's title, accepting offers of work from two masters to better his chances of filling his belly. One of these is really a woman, Beatrice (Adele Querol) pretending to be her dead brother, Federigo, who was murdered by her lover, Florindo (Andrew Hearle) with Florindo being the servant's other master. If that made no sense you've understood it perfectly well. Much of the point is simply to create endless scope for cases of mistaken identity as to which master Truffaldino was supposed to give the letter/money/message.
During the ensuing two hours (plus interval) of pandemonium, a striking aspect of Goldoni's world is its sheer benevolence. The humour swirls around a cast of 14 without anyone's motivations being malicious. General Pantalone (Yalin Ozucelik) might prefer his tantrum-inclined daughter Clarice (Samantha Ward) to marry Federigo rather than the accident-prone Silvio (Gabriel Fancourt), and Truffaldino is forever trying to satiate his gluttony, but that's about as wicked as anyone gets.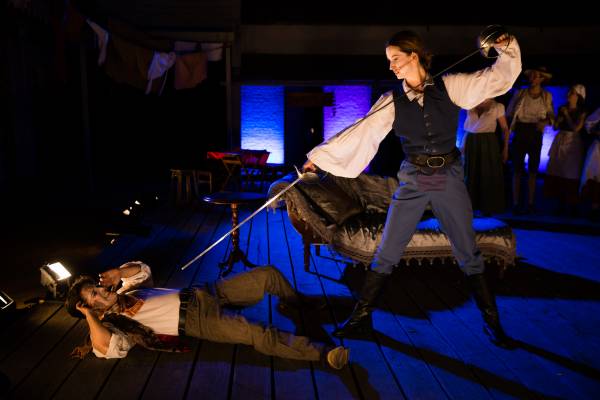 Amid several strong performances the ultimate star of this production is the ensemble. This is a play that encourages the insertion of endless sight gags, and the directors' choreography of the ensemble through its collective reactions, unison lines and physical acting is a delight. Expert use is made of the relationship between the stage and upstairs balcony that Bella Vista affords, and which designer Sallyanne Facer has made as Italian as Chianti with minimal visual flourishes.
The role of Truffaldino demands the sort of dextrous clowning that borders on acrobatics, and Zhao is exceptional in this regard, executing tricky routines with (hopefully!) injury-avoiding precision. If the directors have not have milked all the laughs from the Act Two scene in which he serves dinner to both masters simultaneously, that in which he and his equally illiterate heartthrob Smeraldina (Meg Clarke) try to decipher a letter is exquisite.
Ultimately this show seems to make better use of the shared acting resources than does its partner in this year's summer season, Measure For Measure, and standing out again is Adele Querol, who can still bring a startling level of truth to bear in a knockabout romp like this.
Perhaps 20 minutes could have been trimmed from the length to keep the pace at fever pitch, but this is a highly amusing production – and one that could hold considerable appeal for older children, as well.
Leura Everglades, January 13-28.