Hayes Theatre, January 22
2.5/10
Why do people sing in musicals? Since the art-form began to achieve some sophistication with Show Boat (1927), the answer, beyond pure entertainment, has lain with plot and, primarily, character. When expressing inner thoughts, for instance, a character can sing lines that would sound lame if merely spoken, and the music on which the words ride delineates character further. In fact we can learn more about them more efficiently from the music than the words.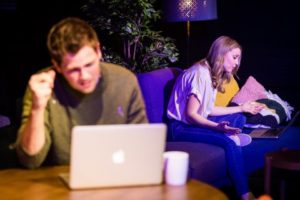 That's why jukebox musicals mostly disappoint: the songs are shoehorned into the story with no allowance for nuance of character other than in performance. In many ways The Life of Us is like that. Despite having all-original songs and going through an extensive development process, this new local musical by Ben Bennett (music, lyrics and book) and Ashleigh Taylor (book), here receiving its world premiere, has a fundamental flaw: the songs don't delineate character. Bennett applies a near-identical song-writing style, regardless of who's singing or what's happening.
Compounding the sin, that style is overwrought pop, with no trace of truth to save itself. The lyrics have as much subtext as Donald Trump's tweets, the chord changes can be seen coming from the next suburb, and the key changes are like flashing neon signs signalling what we're supposed to feel. These are songs that engender ugly singing, and Bennett and Taylor (playing the two leads, Charlie and Ellie) and Christian Charisiou and Pippa Grandsion in the support roles duly oblige.
It's a shame, because Bennett and Taylor had the makings of a viable story. Charlie is a would-be pop-star who's headed OS with his manager (Charisiou) in search of the big break, while Ellie, a designer and artist, stays behind to mind her dementia-afflicted mother (Grandsion). Charlie's sojourn turns from weeks to months, and meanwhile they try to maintain their relationship via Skype. You can see how it this could smoulder, but Bennett's songs conspire against it at every turn. The moments crying out for musical intimacy are shattered by mock-anguished wailing, and you swiftly come to disbelieve all the emotions being depicted on the stage.
Neil Gooding directed it, and alas the acting mostly rings no truer than the songs. The surprise is that it reached the Hayes stage without someone applying the brakes.
Until February 9.