Ensemble Theatre, October 19
9/10
Don't miss this. The gaping holes of what is left unsaid make Harold Pinter's dialogue so edgy as to demand a particular virtuosity from the actors. They must lift it into its own theatrical reality, or it can be trapped in the doldrums of stiltedness. Anthony Gooley, Henry Nixon and especially Darren Gilshenan have that virtuosity by the bucketful, the latter offering one of the year's great performances as Davies.
Davies is a tramp who's taken in and given a bed by Aston (Gooley), and then must puzzle out the power relationship between Aston and his brother Mick (Nixon). These relationships are slowly shifting tectonic plates beneath Davies' shoeless feet, lubricated with humour that itself keeps swinging from a Spike Milligan-like zaniness to much darker comedy.
If Beckett's Waiting for Godot showed how little needed to happen on a stage to make a play, The Caretaker (which premiered seven years later in 1960) shows how little needs to happen to fashion a thriller. Okay, it may not be a thriller in the Hollywood sense, but the tension is thick enough to slice with a penknife, as Davies seeks a foothold in the brothers' world, and as Mick loads the play with menace, and then rather than pulling the trigger, showers the bewildered Davies with broadsides of comedy. The gentle Aston, meanwhile, builds his own tension as we await explanation for his passivity.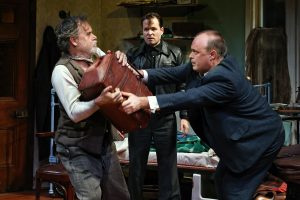 Director Iain Sinclair says he's had a lifelong desire to do this play justice, and he's cast it close to perfection. Gilshenan delivers a fractured Davies who's in a constant flux between cockiness and fear, aggression and fawning, and whose body contorts with these transitions. Mick correctly assesses Davies as a rogue, but Gilshenan ensures we also feel the pathos of his predicament in an affectingly complete vocal and physical performance.
In Davies and Mick, Pinter gives us two characters with ostensibly rather more reason to be institutionalised than Aston – although we can't know how Aston used to be. All three have their own holy grail. Davies has to go to Sidcup to get the papers that prove his identity, yet he can never take the first step on that trip, as if his identity might not exist. Aston dreams of building a shed in the yard, but gets no closer than accruing timber, and, in a brilliant scene, relentlessly sanding a piece of wood, the rasping sound creating a rhythm as he recounts – to himself rather than Davies – the horrors of shock treatment. Mick's dream – to do up the run-down house, with tastefully muted multi-coloured lino, tweed upholstery and tiles in the kitchen – seems just as far over the horizon.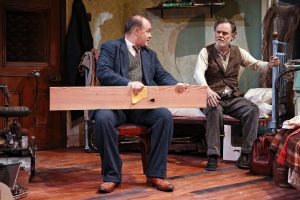 Gooley's performance is as muted as that putative lino, any anger in his character having been electrocuted. His quiet understatement develops its own potency, however, as does his physical presence, and these become vital counterpoints to Davies and Mick. Nixon's Mick is fantastically manic and convincingly dangerous. He gives us a level of unpredictability that makes him the fizzing fuse to Davies' bomb, and his voice modulation is exceptional.
Veronique Benett's set is essentially true to Pinter's instructions, although less cluttered and messy than might have been expected. The bucket that hangs from the ceiling to collect the drips is marvellously ominous, like a sword of Damocles poised to thwart their various fantasies, and the whole production casts a spell you don't want broken, so two intervals seem at least one too many.
Until November 19.