The 3 Out: MOVE (Be! Jazz/Birdland) 8.5/10
Judy Bailey: YOU & THE NIGHT & THE MUSIC (B. Free/Birdland) 8/10
The Charlie Munro Quartet: EASTERN HORIZONS (B. Free/Birdland) 9.5/10
The venue still exists. It lurks just around the corner from the up-ramp to Kings Cross. You creep down steep stairs into a basement and there it is: the El Rocco. Impossibly small it seems now, but in the 1960s it was just big enough to be the crucible in which Sydney's hip, modernist jazz scene was forged, with the likes of John Olsen or Clive James listening on.
They came up from Melbourne, over from Adelaide and across from New Zealand to play there. The Kiwi contingent did not just ice the cake, they played a fair role in baking it. If you ripped all the New Zealanders out of Sydney's jazz scene now you would be losing over 30 players. Pianists Mike Nock and Judy Baily remain among the most important. They arrived within two years of each other, just as the El Rocco was taking off. These were exciting times, and you can that excitement in the music: daring, discovery and invention come zinging at you like bubbles from just-poured champagne. The original LPs have long been collectors' treasures, notably in Japan, where four-figure sums are paid for them. Now an obscure German label has re-released some pivotal albums from this era of Australian jazz.
Move was made in 1960 by a Nock-led trio called the 3 Out. The hipness of the band's name is echoed in the moody shadows on the cover photograph of Nock, drummer Chris Karan and bassist Freddy Logan. The album was recorded only six weeks after the band was formed, so a growing cohesion mingles with the excitement of the new in realising sharp arrangements of what are mostly standards. Although it was recorded in a studio you can imagine the packed coffee-sipping, cigarette-smoking El Rocco crowd whooping its encouragement of sensational playing that on the more bluesy pieces bristles with the sort of testifying intensity that Charles Mingus would have relished. While Nock's playing was not quite as distinctive as it is now, it already contained the ebullience that remains such a prominent feature of his work. Karan displays the snappy precision that two years later would become a hallmark of the Dudley Moore Trio for four decades, and the insistent 5/4 groove of Logan's Primitive is a distinguishing highlight. Any fan of the modern-day Nock should hear this.
Two years later Judy Bailey recorded her debut album at the El Rocco. It, too, sizzles with the energy of youth, newness and discovery. Bailey's trio was completed by bassist Lyn Christie and multi-instrumentalist John Sangster on drums, and her own Deep Night joins eight standards in creating a program in which the word "night" is in every title. The music is sensuous, playful and heartfelt, and Bailey, then one of only a couple of women playing high-level jazz in Australia, has an innate swing that is effortless and lithe. She is in sizzling form on the super-fast It's a Grand Night for Singing, but I actually love this band just as much when they're painting moods, and doing it more by spontaneous interaction than detailed arrangements, as on the introductions to In the Still of the Night and Night Dreams. That interaction, especially between Bailey and Sangster, is so good-humoured you hear the fun they are having as a tangible aspect of the music, most notably on an overtly amusing Night in Tunisia. Yet Bailey can also turn in a solo 'Round Midnight that is as desolate as any you will hear. A classic.
Two decades before Nock and Bailey arrived in Australia the multi-instrumentalist Charlie Munro crossed the ditch. He played in army entertainment units during World War II and subsequently worked extensively for the ABC. In the early 1960s he fell in with the influential pianist Bryce Rohde, who introduced him to George Russell's theories on improvisation. Munro assimilated these, opened his ears to the music of the Middle East, India and Japan, and in 1967 came up the revolutionary masterpiece that is Eastern Horizons.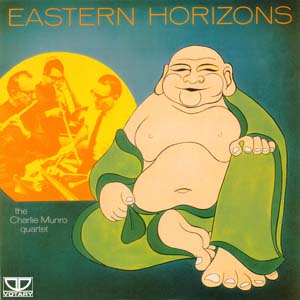 Despite the music's intellectual underpinnings the results are often as visceral as any you will hear. On Islamic Suite his soprano saxophone brays like the double-reed zurna against Mark Bowden's primal drumming. By contrast in the suite's second movement Munro plays a lament on cello that would even make a Peter Dutton weep.
The whole album continues as a dialogue between east and west, between Munro's catalogue of instruments, between composition and improvisation, between the polite and the avant-garde, and of course between the members of the band. This was completed by trombonist Bob McIvor and bassist Neville Whitehead, with Bowden also playing vibraharp and marimba. The vibrancy of the original recoding has been maintained in this reissue, so the sounds leap from the speakers with dazzling brightness and clarity. Despite moments of pastiche and archness, much of the music still seems impossibly fresh today, so imagine how radical this record was in 1967!
Another in the German series, Sittin' In, has the 3 Out joined by guests including Don Burrows and Errol Buddle, and the ABC has just released an album Burrows recorded with James Morrison and bassist Phil Stack in 2010, plus a bonus disc of various Burrows/Morrison collaborations during the 1980s. Taken together these five albums add up to a major retrospective of Oz jazz.