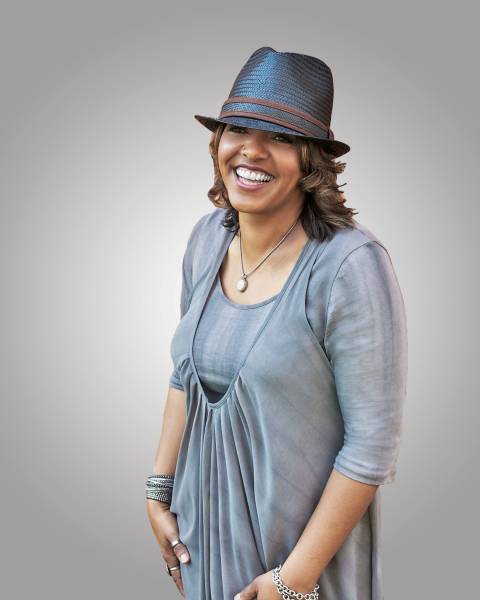 By the age of 18 she was a veteran. She had, after all, been able to play the drums the first time she sat at them, aged seven. By 10 Terri Lyne Carrington had performed with the great jazz trumpeter Clark Terry, by 11 she had not only played with pianist Oscar Peterson, she had a full scholarship to the Berklee College of Music. The term "prodigy" seems something of an understatement.
It could all have been too easy, but Carrington had the sense never to stop learning. Her saxophonist father was president of the Boston Jazz Society, so countless greats paraded through her childhood, including the father of modern jazz drumming, "Papa" Jo Jones. Her primary memory of such people is how much they loved the music.
"It was the most important thing in their lives," she says on the telephone. "So when they met a young person like myself that had potential, they felt the responsibility to nurture that young talent. That's the same thing that I'm doing now when I teach [as a Berklee professor]. Teaching is to me about mentoring, and I definitely got that from Papa Jo and so many others."
At 18 Carrington toured Europe with Terry, receiving a masterclass in everything from punctuality to spending money: "How to present yourself, how to present your music, how to be respectful and demand respect," she says. "How to treat yourself, too. I remember spending my whole pay-cheque on a leather coat, once, and that was the first time that I acknowledged that, 'Yeah, I deserve this!'"
From the doyen of living drummers, her friend Jack DeJohnette, she learned to be open: "To be open-minded, to be open musically, and to be open personally. I had a little bit of tunnel-vision, and he turned me on to all kinds of music, so I'd go and see a solo piano concert, a string quartet, a solo guitar concert, a reggae band or whatever. He taught me the importance of being multi-dimensional so you can keep reinventing yourself. And you can stay inspired when you're open."
During her stints with saxophonist Wayne Shorter and with pianist Herbie Hancock Carrington learned about playing life rather than just playing notes. "When we're in the state of being creative we're closest to our most authentic selves," she says. "We're exposing ourselves to the spirits of other players. When you play just notes you're dealing in a theoretical place. When you're playing life there's no separation between you and the instrument or you and the sound. It's a hard place to get to, because you have to take everything that you know and basically throw it out the window. You don't want to play from a place of knowledge, you want to play from instincts. You're trying to find the mystery in the moment, the mystery in creation.
"It takes time, wisdom and understanding of life. It's about connection. Why is it that a person like Wayne Shorter can play one note and it just affects you so you laugh or cry? You can hear his whole soul in one note just because he's connected to humanity."
Carrington, 52, was last in Sydney as musical director for Sing the Truth with singers Dianne Reeves, Angelique Kidjo and Lizz Wright. This time she performs with local musicians (including saxophonist Sandy Evans) for the Sydney International Women's Jazz Festival (November 8-18). "I haven't done something like this in a long time," she says. "But it's good to take chances and try something different."
Terri Lyne Carrington: November 10-11, Foundry 616.