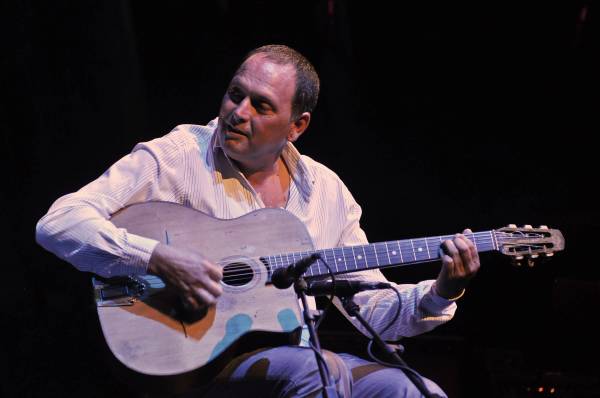 In the best Gypsy fashion Stochelo Rosenberg is in his caravan when we speak on the telephone. The caravan is in the little French town of Samois-sur-Seine, which, being where the great Gypsy (or Roma) jazz guitarist Django Reinhardt died, holds an annual festival in his honour.
Rosenberg is there because he is among the foremost modern bearers of Reinhardt's flame. "I want the whole world to know about Django," he enthuses. "I'm very happy to be like an ambassador for this music."
The problem facing any musician who keeps alive the legacy of another is to avoid sinking to the level of a mere tribute act.
"When I was young I was like a copy of Django," Rosenberg acknowledges. "I copied his solos, but that was just to know how this man was thinking."
Having taken up the instrument at the age of 10, it took eight hours a day for two years before Rosenberg could replicate Reinhardt's solos. Then, at 17, he discovered that imitations did not really cut it when working with real musicians, so he set about reinventing his approach within the Reinhardt idiom. "Little by little I discovered my own style," he says, "and now there are many musicians who copy my style, also."
In 1988 Rosenberg and two cousins were allowed to play three songs during an interval at the Festival Django Reinhardt. They received a standing ovation and the Rosenberg Trio was born. Four years later they found themselves working with Reinhardt's great collaborator, Stephane Grappelli, who was initially wary of the trio joining the plethora of bands mindlessly copying Reinhardt's Gypsy swing. The violinist was delighted to hear that in fact they had something of their own, and invited them to share concert bills and end-of-show jams with him until his death in 1997.
"I was very honoured to play with a man like Grappelli," says Rosenberg. "For me it was just the same as playing with Django, because Grappelli was the best jazz violinist, and Django was the best Gypsy jazz guitarist. And he was not just a magnificent guitar-player: he was an inventor. He created something on guitar that no one had ever done before, and created a new style in jazz."
Reinhardt's being the first non-American to add something entirely original to jazz compounds the widespread reverence for him, as does the fact that when he was 18 he lost the use of two fingers of his left hand in a fire in his caravan, a calamity that would have deterred most people from persisting. "He was so inspired by the guitar he didn't give up," Rosenberg says, "and there are some films where you can see how he played with two fingers. It's not human. It's from another planet!"
Reinhardt's innovations continued until his death in 1953, and Rosenberg sees himself as not just continuing the tradition, but expanding it. "I respect Django, but I'm so happy that I can find my own way in his music," he says.
The Rosenberg Trio: Camelot Lounge, July 17-18.