The first rehearsal for Bridge of Dreams will be a symbol of the project, itself. Seeking to span the divide between Indian classical music and jazz (including a 17-piece big band), it will bring together 22 musicians who until now have only interacted via technology, with some of them in Mumbai and some in Sydney.
Sydney saxophonist/ composer Sandy Evans has previously primarily collaborated with South Indian (Carnatic) musicians, rather than the North Indian (Hindustani) ones involved in Bridge of Dreams. Her old friend and tabla player Bobby Singh – the title's "bridge" – helped connect her with singer Shubha Mudgal, her husband (and Singh's guru) Aneesh Pradhan (tabla) and Sudhir Nayak (harmonium).
A 2014 Churchill Fellowship took Evans to Mumbai to see if a collaboration was feasible, and implicit from the outset was the idea that a bridge was a two-way street. "We had a brilliant time, and it was very fruitful," she says. "They just have an incredible inquisitiveness about other music, and about how they can relate better to musicians from other cultures."
Evans was just as curious about Hindustani music's richness and complexities, but they swiftly saw that the way forward was to maintain their own musical identities. "One way of approaching collaboration is that you try to become like the other person," she points out, "but another way is to say, 'What I've been interested in all this time is actually a pretty amazing tradition, and maybe the greatest strength can come from everybody doing what they feel most at home with."'
Their first attempt at recording, Arms of Imagination, was created by Evans sending sound files to Mumbai, against which the Indians recorded, before Evans, Singh and Sirens Big Band did their own overdubbing in Sydney. Deciding an album was viable, Evans, Sirens' leader Jessica Dunn (bass) and Singh then went to Mumbai. "It was a chance for me to sit with Aneesh and Shubha and continue developing the compositions," says Evans. "That was probably one of the most amazing weeks of my life."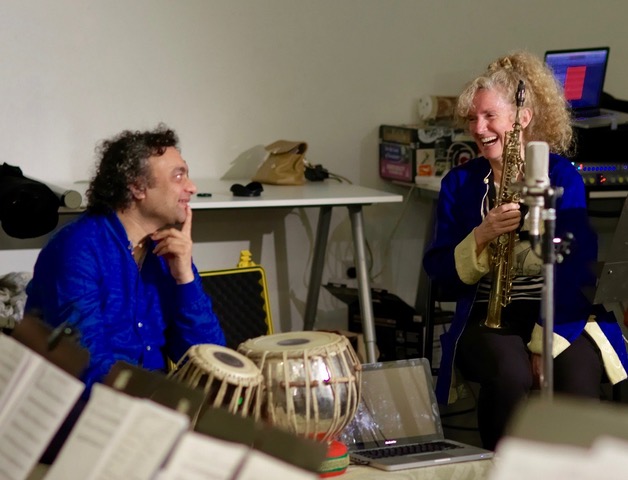 She sought ways of making the musical connections structural, rather than merely a dialogue between idioms. For Tabla Spiral, for instance, she actually transcribed Pradhan's solo tabla, and then assigned the melodic patterns to different instruments within the big band.
Deepening of the Red Sun began with Pradhan teaching a slow, 14-beat rhythmic cycle to Evans, who woke up the next morning having dreamt about death: "A very vivid dream of a kind of joyous funeral," she says. "I immediately thought of this melody to go with to with the 14-beat cycle. I wrote that down, opened my computer, and [husband] Tony had sent me an email that a good friend of ours had died. I told Aneesh and Shubha the story, and Shubha immediately sang these lyrics from Kabir, this 15th-century mystic poet, and she fitted his text to my melody just like that, without even thinking about it. And the theme of the text was about death being a marriage with God."
Mudgal and Pradhan are known for fighting injustice and trying to heal division, and herein lay another connection, with Sirens being similarly socially conscious. "They have done projects trying to connect with refugees and with Arabic women in western Sydney," says Evans. "They're a pretty amazing group of women."
Now that momentous first rehearsal approaches. "To finally have everyone in the same room is going to be pretty remarkable," Evans enthuses. "It will be fantastic to actually play together and have that more improvisatory experience that we all love."
Bridge of Dreams is out now (Rufus Records); City Recital Hall, January 12.