Eternity Playhouse, September 9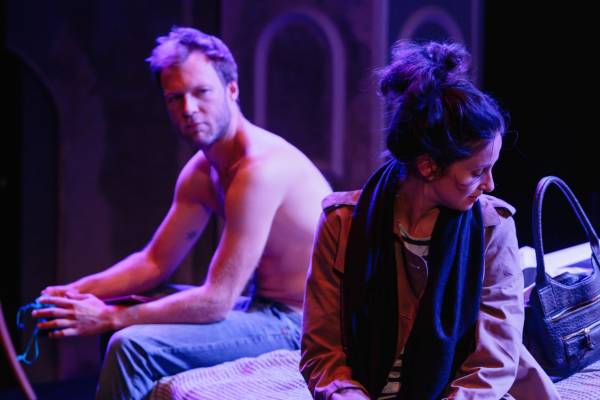 Humans have a wondrous capacity for lying to themselves as well as to others. Director Anthony Skuse production for Darlinghurst Theatre Co unites two of Jane Bodie's one-act plays, Ride and Fourplay, in which relationships are in ephemeral states, with honesty the first casualty.
In Ride two strangers, Joe (Tom O'Sullivan) and Elizabeth (Emma Palmer), wake up in bed together with no memory of meeting or whether they have had sex. Hangovers don't help their predicament.
Some overly contrived lines strike a dissonant note within Bodie's minimalist naturalism, and her writing for Elizabeth is more finely observed than that for Joe. Veiled nihilism makes room for a creeping romanticism, but meanwhile trivialities lead only to more trivialities, a form of dramatic gridlock that starts to pall.
Designer Hugh O'Connor has Joe's bed on a raked platform (that serves both plays), and Skuse sometimes flops the pair on and around this in quite painterly fashion. If Palmer does not have the raw material to match her stunning performance in Constellations last year, she does maintain a nuanced truth, while O'Sullivan misses the mark sometimes in trying to emphasise his character's laconism. At the end Joe's long recapitulation of events seems oddly redundant.
Fourplay centres around the failing relationship of Tom (O'Sullivan) and Alice (Gabrielle Scawthorn). Tom falls for the flirtatious Natasha (Palmer) with whom he is in a play, while Alice becomes enamoured of Jack (Aaron Glenane), a workmate who has been stalking her.
Bodie's masterstroke here is not to predicate her story on blame, and Skuse's is to have the actors primarily address the audience when they are they conversing. Suddenly the lines and lies of love and love-gone-wrong come directly at us like echoes of our own pasts, helping to pull us inside the little drama. All four performances are strong, with Glenane especially commendable in underplaying Jack's eccentricities. But the play is too long for its content, and lacks the truly poetic heart it needs.
Until October 4.