The Berlin, Germany and Washington DC theatre communities are saddened at the passing of director Gabriele Jakobi (1952 – 2023). She succumbed to respiratory distress and other complications resulting from a series of strokes she suffered in 2015. She was an accomplished and respected director, playwright and teacher whose impressive body of work spanned five decades. Gabriele Jakobi is recognized as one of the "Top 10 Directors" in Christine Haberlik's book, Regie Frauen, which was published in 2010.
Gabriele was born in Nürnberg, Germany and studied theatre, literature and German at the Freie Universität Berlin. Her internationally acclaimed work has been seen on the major European stages of Germany, Austria and The Netherlands, and in the US in New York City and Washington DC. She worked as a successful theatre director from 1979 to 2015 when she first fell ill.
Gabriele directed plays at leading theatres throughout Germany and Holland such as Schauspielhaus Cologne, Schiller Theatre Berlin, Schauspielhaus Hamburg and Renaissance Theatre Berlin. At Schauspielhaus Düsseldorf she directed Antigone (Hölderlin), Krapps Last Tape (Beckett), and Maria Magdalena (Hebbel).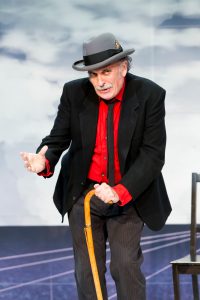 In 1987, she was invited to the Glasnost Theatre Festival in Moscow to stage Penthesilea (Kleist). This production was declared "Best Production of the Year" in all of Germany by major German theatre magazine Theater Heute. In 1988, Penthesilea was nominated for "Best Theatre of The Year" at the Berliner Theatertreffen. Gabriele also won "Best Production" at the Monoplay Festival in Kiel, Germany for Krapp's Last Tape. In 2002, she was winner of "Best Direction" and "Best Production" for Krapp's at the International Theatre Festival in Wroclaw, Poland.
In the US, Gabriele directed Winterreise (Schubert) at the renowned La Mama Theatre in New York. For Washington, DC's Scena Theatre, she directed The Jungle of the Cities (Brecht), Krapp's Last Tape (Beckett), Mother Courage and her Children (Brecht), The Maids (Genet), The Blue Angel, adapted from the Marlene Dietrich film, and Report to an Academy (Kafka). She adapted Kafka's famous short story for the stage, featuring her husband, Robert McNamara, Scena Theatre's founder. Gabriele also served as Scena's dramaturg for a decade.
Prior to her strokes in 2015, Gabriele was working on several major projects for Scena Theatre including the musical The Comedian Harmonists, Jackie, and a much anticipated production of Chekhov's Three Sisters.
A longtime resident of Berlin, Gabi would have turned age 70 this coming March 8. She is survived by her beloved husband and artistic partner, Robert McNamara, founder/artistic director of Scena Theatre in Washington DC. Gabriele will be buried on January 25, 2023 at 12:00 Noon at the honored Dorotheenstadtischer Friedhof Cemetery in Berlin-Mitte, Chausseeallee 126 10115 Berlin. This is the final resting place of Bertolt Brecht and Gabi's past colleagues Heiner Mueller (dramatist/poet/director) and Bernhard Minetti (noted actor). Additional memorial services in both Berlin and Washington, DC are to be announced.