City Recital Hall, January 15, 2013
 This was as close as Sydney will come to hearing Robert Wyatt in person. His disembodied voice was in the room, as were his songs. France's young Orchestre National de Jazz performed material from its Around Robert Wyatt album, containing reinventions of the intrepid English jazz-rock and art-rock pioneer's music.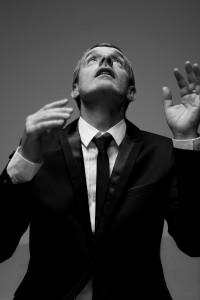 The title also refers to how the music was assembled around Wyatt's songs. His voice and those of other singers selected by the band's artistic director, Daniel Yvinec, were recorded unaccompanied, and then gradually swathed in Vincent Artaud's intricate arrangements.
 Having these recorded "ghost singers" amid a live band required an adjustment on the audience's part, but threw the focus back on the music, itself, where a live singer's performance inevitably poaches one's attention.
 The in-person exception was Rokia Traore, being coincidentally a guest on the album and a Sydney Festival star. Her two songs included the delightful Alifib from Wyatt's 1974 Rock Bottom masterwork, written following the accident that left him a paraplegic. Pleading, playful, funny and desperately sad, it survived the band being overly loud to glow robustly, if less poignantly.
 From the same album they visited perhaps Wyatt's greatest achievement, Sea Song. Again some of the guileless charm was lost, yet it made one's heart swell nonetheless.
 Artaud's arrangements were occasionally reminiscent of Gil Evans's orchestrations for such Miles Davis classics as Sketches of Spain, but with intermittent halos of electronics. Such colour combinations as flute, muted trumpet and bass clarinet enriched the harmonic layers on Wyatt's timeless, beguiling compositions.
 Although embellished by improvising and Antoine Carlier's projected images, the songs remained the centrepieces. Just As You Are, a candid duet of domestic love, had the band flitting around it as surreptitiously as embarrassed house-guests, before a blazing trumpet solo (Sylvain Bardiau). The captivating Te Recuerdo had miraculously light alto saxophone (Antonin-Tri Hoang), echoing the way Wyatt's voice wafted across the many glorious melodies and enchanting lyrics.