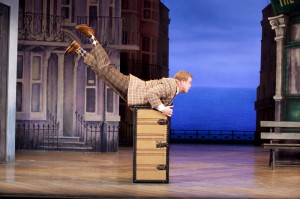 Sydney Theatre, April 2, 1013
If I have laughed this hard for 90 minutes in a theatre before I don't remember when. But then Richard Bean has not previously thrown a mucky bucket of British humour over an eighteenth Italian comedy (Carlo Goldini's  The Servant of Two Masters).
It is no surprise that this National Theatre of Great Britain production has proved so popular, including on Broadway. Firstly there is Goldini's risible plot of a knockabout servant who finds himself employed by two masters, one of whom is really a woman pretending to be her dead brother, who was murdered by her lover, with this lover being the servant's other master.
Got that? Into it Bean has shoe-horned a 1960s Brighton setting and every Goldini gag, Bean gag, innuendo, silliness and slapstick that would fit – and more that don't. He taps into a centuries old tradition – stretching from The Wife of Bath's Tale to Fawlty Towers – of the Poms laughing at themselves (and bleeding foreigners) as a respite from the weather, the class-system and the food.
The performances are as expert as the humour – we're not talking wit – is broad. Directed by the National's boss, Nicholas Hytner (with Cal McCrystal directing physical comedy and Adam Penford the Australian revival), the actors milk every laugh from ad libbing (in the Goldini tradition) as well as script and stage business. Hamming is not a sin here: it's compulsory.
Owain Arthur leads the charge as Francis, the permanently hungry bloke with the surfeit of guvnors. Arthur, who is funny just breathing, gives us the virtuoso treatment of his full repertoire to side-aching effect. His timing and slapstick are consummate, as is his audience banter. (Take a bow, Sabrina Carter: you know who you are.)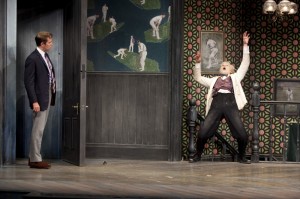 Edward Bennett's reactions as Stanley, a gloriously pompous upper-class twit (and guvnor) are as comical as his lines. Among the large, talented cast Mark Jackson's clowning as an octogenarian waiter stands out, and Kellie Shirley amuses with every line as Pauline, whose brain may well have been the prototype for the house-brick.
Grant Olding's skiffle and beat songs are played with pizzazz by The Craze, and Mark Thompson contributes a charmingly old-fashioned set and cartoonish costumes.
The astute will have noted I mentioned laughing uproariously for 90 minutes, which was the slab before intermission. When we returned the show went oddly flat through some combination of the spell being broken, inflated expectations and the script going limp. While the show picked up again, the damp patch should have been expunged.
Until May 11.