Old Fitz Theatre, February 10
6/10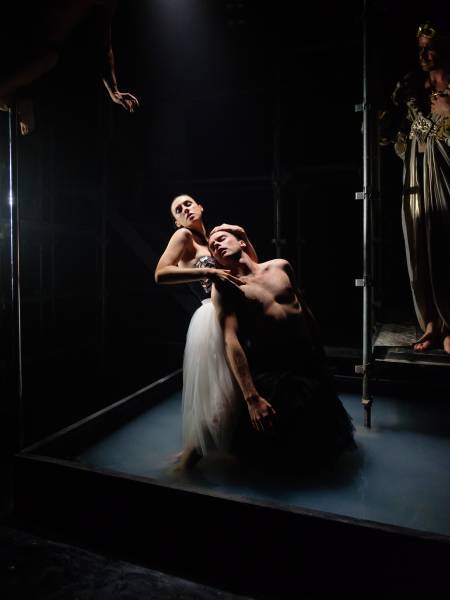 Water: infinitely malleable and forever changing before our eyes. A pool of milky water occupies the stage and is central to Mary Zimmerman's lavishly theatrical Metamorphoses, a refreshingly ambitious work to see attempted in Sydney, where so many productions ignite our imaginations about as much as TV sit coms do. It is her selective adaptation of Ovid's seminal work, incorporating three dozen characters and narrators spread across 10 stories, most of which are sub-10-minute vignettes.
Based on myths, the play is partly a reminder about the vital function of these – common to all cultures – in our psyches. The myths that Zimmerman has plucked from Ovid (who borrowed from the Greeks) tend to be parables of love, death and transgressions ranging from greed to incest. The pool can variously be a veil of tears, the ocean on which Ceyx sets sail against the wishes of his loving wife Alcyone, or the River Styx that Orpheus must cross to reclaim Eurydice.
While the pool's metaphorical resonances rise like water spouts, Zimmerman's text is rather more prosaic. This becomes glaring when, having presented Ovid's Orpheus and Eurydice, she retells it from Eurydice's point of view via a translation of Rainer Maria Rilke's poem Orpheus. Eurydice. Hermes, and suddenly the language soars high above the surrounding lines. The excruciating sadness is lost in the performance, however.
Director Dino Dimitriadis has gender-swapped characters at almost every turn, partly reflecting this Apocalypse Theatre Company production's Mardi Gras affiliation. He has also sliced the narration into snippets that are spread around his cast of 10. While this can be effective, it can also compound a problem with which Zimmerman constantly flirts: telling us the stories rather than showing them. Most curiously he has cut Midas's return at the end, when his turned-to-gold daughter is restored to life. Perhaps redemption is not his thing.
Designer Jonathan Hindmarsh surrounds the pool with unadorned scaffolding, about which the actors waft in almost constant motion and relocation, so the very set becomes an image of metamorphosis. Standing out from the cast is pole-dancer David Helman, who generates more poetry with his body than the rest muster with their voices. This play demanded virtuosos to realise the endless transitions from arch theatricality to broad humour, philosophy, tenderness and tragedy. Dimitriades didn't find them.
Until March 10.