City Recital Hall, January 20
7/10
It was advertised as a "unique" double bill. I think "weird" is the word. What should have been the main – arguably the only – event came on first and only played for 40 minutes. That was the Iraqi duo of Rahim AlHaj (oud) and Karim Wasfi (cello). This was music of truth, beauty, humility and grace – a world away from the jerky electro-pop of Tunisian singer-songwriter Emel Mathlouthi. While the latter's heart is certainly in the right place – with songs about refugee children, homelessness and the many slaving for the greed of a few – her angst-ridden singing rang hollow after such profundity. I can only presume some muddled thinking about both acts being voices of Arabic freedom and peace in their respective homelands lay behind the combination.
The interplay between AlHaj and Wasfi was instantly captivating, the notes hanging low in the air like ripe pomegranates. Then, just when one had adjusted to the prevailing tranquillity and elegance, AlHaj ripped apart the music's fabric with singing of startling urgency. This was the exception, however: mostly they swapped solos on lacework compositions, AlHaj animating his serpentine lines with exquisite dynamics, so where one expected a climax a note of fathomless tenderness arrived, instead.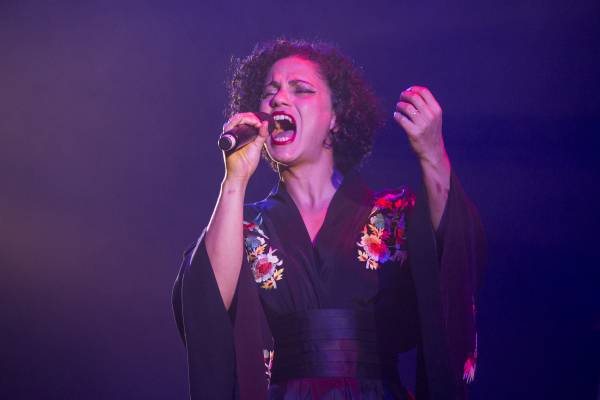 Wasfi's playing was at least as remarkable, notably in a solo cello improvisation that drew more on the classical music of Russia than Arabia, and in two arco laments, where, like AlHaj, he eschewed grand gestures and emotional vulgarity in favour of a fine-lined sadness realised with feathery attack.
After this masterclass in understatement Mathlouthi's performance felt like I had stumbled back into the wrong theatre. Accompanied by Pier Luigi Salami (keyboards) and Shawn Crowder (electronic percussion – the real drum-kit at which he sat going untouched), she unleashed 80 minutes of wailing vocals and atop synthetic swirls and crunches that lacked the distinctiveness of her work of 15 years ago. Nonetheless Kadeesh, dedicated to refugee children, shone out with acoustic piano and less affected singing, as did War Child, her tribute to Dolores O'Riordan.