Foundry 616, November 2
6.5/10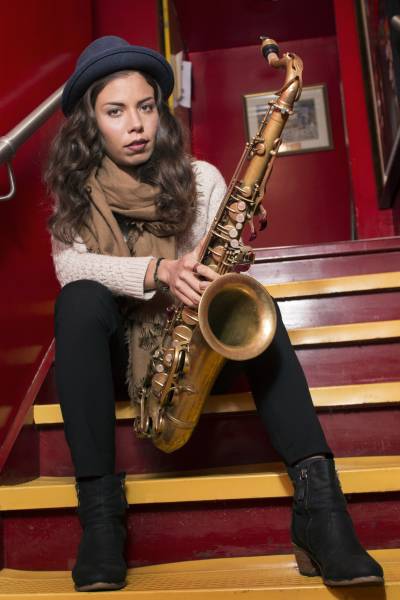 Where did that come from? This concert had been cruising along agreeably enough, with several highs, some flatter stretches and no real gullies, until the final Dewey's Tune, one of the late Dewey Redman's vibrant but rarely heard compositions. Suddenly tenor saxophonist Melissa Aldana was a different creature, her sound bigger and her playing bolder and 10 times as intense. Suddenly the music was raging.
Where had this potency been hiding? Was it just an aesthetic decision on Aldana's part that none of the other material warranted such treatment, or did she simply save the best for last? Whatever the case it certainly obliged one to reassess the saxophonist, a New York-based Chilean who was the first female instrumentalist and first South American to win the prestigious Thelonious Monk Institute International Jazz Competition.
Aldana opened the fifth Sydney International Women's Jazz Festival with bassist Pablo Menares and drummer Colin Stranahan, the stark trio format (popularised by Sonny Rollins in the 1950s) leaving all three instruments more exposed in terms of sounds, ideas and interaction.
Aldana is also a composer, and her New Points had a gorgeous lightness built into it, juxtaposed with passages of greater density – a dialogue unfortunately lost in the improvising. The playful rapport between Menares and Stranahan was evident immediately, however, and Aldana soon joined them in a game of motivic pass-the-parcel.
Menares crafted sparse, sinewy solos, while Stranahan's was the music's most consistently engaging voice, the drummer hewing solos on Dewey's Tune and Monk's I Mean You that sliced to the bone of each piece, and patched them up with thrilling embellishments.
Aldana's improvising was never less than lithe, imaginative and responsive. While both her concept and timbre made her sound more like a natural alto than a tenor player, her exceptional facility, extended techniques, rhythmic nous and singular melodic ideas certainly marked her out as a significant saxophonist. I just wish that the version of her that broke free at the end had rampaged through the music sooner.