Maxine Peake now knows just how much of a stretch performing a play by yourself is. Not only are there vast slabs of text to learn without the handy cues of others' lines, but one also misses out on an ensemble's tribal camaraderie. Peake, the British star of such hit TV shows as Silk, and whose extensive stage career includes the titular role in Hamlet, has bitten off not just one, but two one-woman shows this year.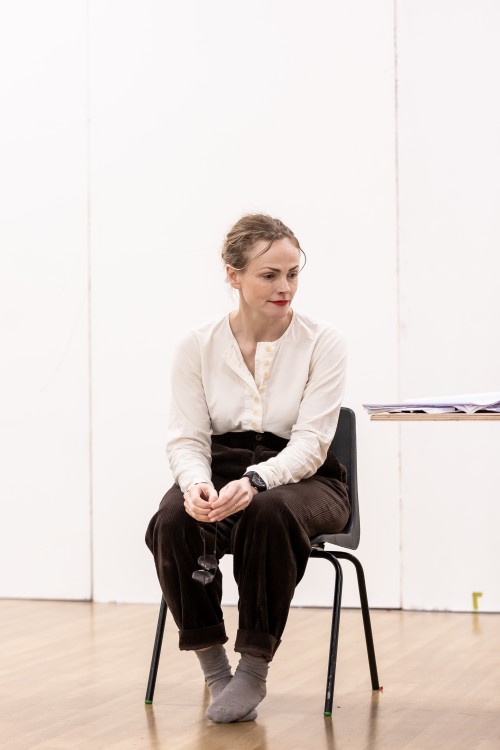 Avalanche: A Love Story, by Julia Leigh, about a woman strapped to the emotional cheese-grater of IVF, has come to Sydney three months after Peake performed it at the Barbican in London. In her distinctive Manchester accent she says the feeling of isolation that a one-hander can engender was only exacerbated by seeing other shows while she was rehearsing: "I remember going one night in particular, and just getting a little bit teary watching a lot of actors on stage together, which I really missed. It's quite a lonely experience. You arrive on your own, you do the show and then you toddle off back into the night on your own… I realised I liked being an actor because it's a team sport."
The nearest she had come to a one-hander previously was delivering Shelley's poem The Mask of Anarchy at Manchester International Festival. "That was 35 minutes on my own to 2,000 people a night, which was quite daunting," she says. But then daunting would seem to be her middle name, given she did eight shows a week of a three-and-a-half hour Hamlet in 2014. Then, as with Avalanche, she mostly waited to see what unfolded in rehearsals before learning the text. "I'm always worried that if I learn it I'll get into a slightly unnatural rhythm," she explains. "And there's a little bit of physical memory as well: so I know where I'm saying what, and things seem to go easier that way."
Rehearsing Avalanche was a very collaborative process with Australian director Anne-Louise Sarks, who eschewed a prescriptive approach. "We went into the room and Anne-Louise said, 'We're just going to find it together.' So we did," says Peake. "Theatrically at one point it was quite big, and as we rehearsed we realised the piece needed less and less movement and theatricality in it."
The challenge then was to stand on the expansive Barbican stage and, in Peake's words, "not do very much… Sometimes you've just got to trust the text will hold," she adds. "You think, 'It's just me. I'm going to have to run around everywhere and keep everyone's attention.' You don't realise that the language does that for you."
Doing a season, taking a break and then revisiting a show is a first-time luxury for her: "I always wished with Hamlet that I'd had a bit of a break from it, and gone back to it. I think most people say that when they play Hamlet: 'I can't wait till this is over', and then a couple of months later, 'I'd really love to do that again. I think I understand it a bit more, now.' So, yeah, it does feel a privilege to be able to go back."
Between the Barbican and Sydney seasons Peake performed another one-woman show, The Nico Project (about the famed, dark-voiced singer), which she co-developed and will take to Melbourne. "Crikey, I'm a glutton for punishment!" she exclaims, and laughs.
Avalanche: A Love Story: Roslyn Packer Theatre, August 31-September 14.