She was the youngest member of a black family in a white part of Pittsburgh, whose neighbours showed their displeasure by lobbing bricks through the windows. By the age of three Mary Elfrieda Scruggs had taught herself to play spirituals and ragtime on the household organ, and by six she had worked out that if she played these neighbours' pianos for them, the glass stopped smashing. Even her mother didn't make this connection until Mary Elfrieda broke her arm, and the whites asked why the music had stopped.
Soon enough these private concerts had not just ended the terror, they were making enough money to support her 10 older siblings. By 12 she was touring with carnivals and vaudeville dancers, and by 13, in 1923, she had sat in with Duke Ellington's Washingtonians, and would astound such fabled pianists as Fats Waller and Art Tatum.
In 1927, now called Mary Lou, she married saxophonist John Williams, and when he joined Andy Kirk's Twelve Clouds of Joy, Mary Lou's arrangements, compositions and playing came to define not just that band's sound, but Kansas City jazz more widely. Soon Benny Goodman and Ellington were clamouring for her scores.
Having helped the swing bands to excel, Mary Lou did the same for the new beboppers, with pianists Bud Powell and Thelonious Monk hanging around her house for hours a day, soaking up knowledge and, in Monk's case, specific ideas. She composed In the Land of Oo-Bla-Dee (a bebop hit with which Paul McCartney was presumably familiar) for Dizzy Gillespie, and was a sounding board for the revolutionary concepts of Charlie Parker and Miles Davis.
Her own playing assimilated bebop, while its gospel, blues and swing foundation made it timeless. "I experiment to keep up with what is going on; to hear what everybody else is doing," she said. "I even keep a little ahead of them, like a mirror that shows what will happen next."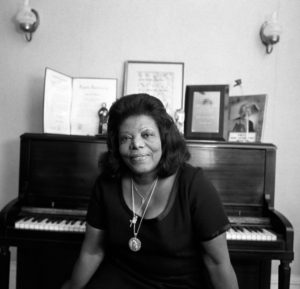 In 1954, worn down by the "greed, selfishness and envy" surrounding the music scene, she suddenly abandoned the piano in a Paris nightclub and quit music altogether. In 1956 she converted to Catholicism, dedicating her life to devotion and charitable work until Dizzy and two priests encouraged her return to her calling.
In the 1960s she composed three masses, the third coming after receiving a private audience from Pope Paul VI. Initially called Music for Peace, it was choreographed by Alvin Ailey and performed by his Dance Theatre in 1971 as Mary Lou's Mass. The work now seems uneven (with some of Mary Lou's backbeat gospel sounding like tribal R&B in the Hair tradition), but much more of it is exceptional, drawing on her knowledge of the gamut of African American music. While several pieces are frustratingly short, including the stunning Amen, Old Time Blues and the slow, profound and soulful Act of Contrition, featuring Honi Gordon's contralto, you also hear Mary Lou at her ravishing best at the piano on Medi I, and can appreciate her economy on the instrumental Credo.
Unlike her previous masses, this one mostly rides on grooves. The distinctive Gloria has a French horn line among the voices, and Holy, Holy, Holy has an almost bizarre tension between the ecstatic vocal and accompanying bossa nova. Exemplifying her compositional range are Lamb of God, which has solo voices leaping from the choral fabric, the flying bebop of One (with a lyric about racial reconciliation), and Praise the Lord, which contains a forerunner of rap from Peter Whitehead, before a choir, improvised French horn and percussion breaks all come jostling in. The crowning glory is Carline Ray's contralto singing an unforgettable setting of Our Father, and the suite ends with two pieces written for Martin Luther King just after his assassination, for which Mary Lou plays organ – trying to stop the bullets, just like she tried to stop the bricks as a kid. She died aged 71, having somehow packed three lifetimes into one, including playing piano with free-jazz titan Cecil Taylor.
Mary Lou's Mass streams on Apple Music and Spotify; on disc from Birdland Records.