Hearing of a possible gig with a hot new band, Marshall Allen looked in on a rehearsal, expecting the leader to say, "Let's hear you play". Instead he was welcomed with recited poems and lectures about space travel, ancient Egypt and philosophy. Bewildered, he nonetheless stuck around, listening to music the like of which he'd never heard. The next rehearsal was the same, and the next, his horns sitting idle by his side.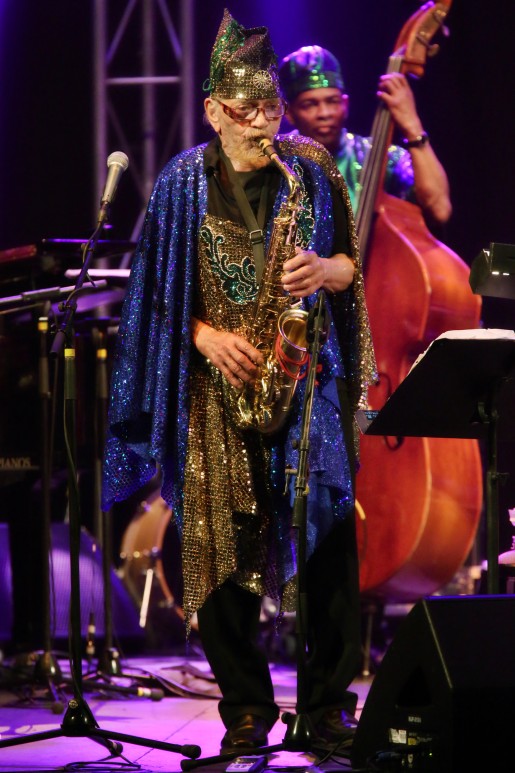 Finally the leader, Sun Ra, asked him if he played flute. "No," Allen replied. "I play alto sax and clarinet." "Get a flute," was the response. So he did, and took lessons until he was good enough to join the Arkestra in 1958. Sun Ra swiftly pegged him as a multi-instrumentalist, getting him to add percussion to his flute, clarinet and alto (which he'd studied at Paris Conservatoire, no less), and then asked him if he played oboe. No, he didn't – and it was a beast to learn, with its double reed. "Get an oboe," was the instruction. Allen did so, and took it to rehearsal "squeaking and squawking", as he told me seven years ago, but he persisted, and soon used it on one the great works of jazz, Exotic Forest, from 1966's Nothing Is… album.
Sun Ra seldom talked about his music's nuts and bolts, preferring to explain the philosophies underlying the notes and the discipline required to play them at the highest level. Born Herman Blount, he had written arrangements for Fletcher Henderson's big band in the 1940s, made proto-doowop records in the early '50s, and was among the first to free up jazz in the late '50s. He was also one of the first to use and electric keyboards and synthesizers in jazz. In fact he'd been waiting for these instruments to be invented: Allen's radical vocalisations on alto were partly a response to Sun Ra's early desire for electronic sounds.
Even more than fellow saxophonists John Gilmore and Pat Patrick, Allen's loyalty for Sun Ra was boundless. He could have enjoyed a substantial solo career, but instead thought his mentor's ceaseless creativity as a composer, arranger, conceptualist and band-leader transcended other options. So, like the rest, he readily accepted Sun Ra's eccentricities, such as claiming to be an angel from Saturn. After all, they couldn't prove he wasn't!
They also went along when a fez was added to their bow-tie-and-blazer uniforms – before the stage attire became much more outlandish. "The Chicago Opera had some old William Tell costumes," Allen said, "and we took 'em, and took some of the stuff off, cos all the fellas were shying off of wearing all those colours. But he [Sun Ra] told 'em it was all about sight and sound… The costumes reflected your personality and your colour and your way. He could pick the right colour for you… We got used to it after a while." Like Duke Ellington, he also composed specific parts based on each musician's persona.
When Sun Ra died in 1993, Gilmore assumed the band's leadership, and when he passed on, it fell to Allen, who is now 96 years young, and still as potent an alto saxophonist as stalks the planet. Unlike other big bands continuing under the name of a departed leader, such as Mingus Dynasty and the Count Basie Orchestra, Allen's Arkestra is less about keeping a legacy alive, and more about maintaining an inherited creative spirit. He's even taken the Arkestra back into the studio for the first time since 1999, with the magnificent, forward-and-backward time-travelling Swirling the result. Only one piece is new, Allen's title track, but the Sun Ra material he's chosen (from a band book that used to be about a foot thick) is reimagined in ways that allow the current batch of players to shine like so many Siriuses. A bent traditionalism continues to space-walk hand in hand with warm-hearted experimentalism and hypnotic riffs and chants. Among many highlights, including Allen's incendiary alto, is Tara Middleton's lush contralto voice.
Swirling streams on Apple Music and Spotify; on disc from Birdland Records.