Capitol Theatre, February 15
3.5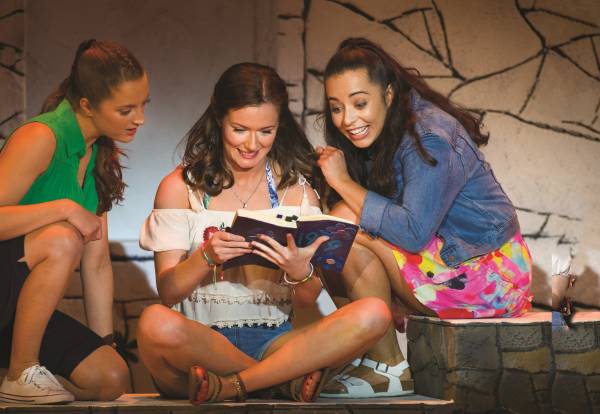 Mamma Mia! is like a warm current of water on which you can happily float along, twirl gleefully about in the eddies of Money, Money, Money, Dancing Queen, Honey, Honey and the title song, and smile all the while. Stay in that carefree place and it's fairly consistent fun. Just don't peer too deeply beneath the current's surface.
If you know the show from stage or film and already love it, or you're just a massive ABBA fan, will you enjoy this production? Damned right you will. Will it convert the non-fan? I'm not so sure.
Catherine Johnson's narrative, which tries to make bride-to-be Sophie (Sarah Morrison) and her mother Donna (Natalie O'Donnell) joint main characters, still feels clunky. It was always about Donna. She draws us in simply by singing the best songs. Meanwhile the relationship between lyrics and plot generally lies on the ephemeral side of oblique, and there's a yawning gulf between the most cleverly-crafted songs by ABBA's Benny Andersson and Bjorn Ulvaeus and the trash.
But what this visually and aurally attractive revival, directed by Gary Young, really wants is more star power. I don't mean big names, I mean stage charisma. Although O'Donnell and Morrison offer capable performances (and are perfectly cast to look like mother and daughter!), they lack that special spark that makes one hang off every move and word.
It's a problem that afflicts most of the principals, the exception being Jayde Westaby as Tanya, Donna's stylish old friend, who nails every arch of eyebrow and jut of hip. Stephen Mahy also makes a more than credible Sky (Sophie's betrothed), and Phillip Lowe flashes a pretty tenor as Harry, one of Donna's old flames.
Nonetheless O'Donnell, the whole ensemble and Tom Hodgson's zippy choreography light fires beneath Money, Money, Money and Mamma Mia!, and similarly Morrison, the ensemble and Linda Bewick's set make the dream sequence of Under Attack a brilliant start to Act II. But thereafter the second half wilts with a dearth of the best songs and a story that spins out beyond its use-by date, desperately reaching for the party-time hits at the end.
Alongside the charming design elements the sound quality is exceptional, aided by a superb band led by Michael Azzopardi, and featuring the inimitable Rex Goh on guitar. Relax and float downstream on that current and you'll go home happy.