Riverside Theatre, January 8
7.5/10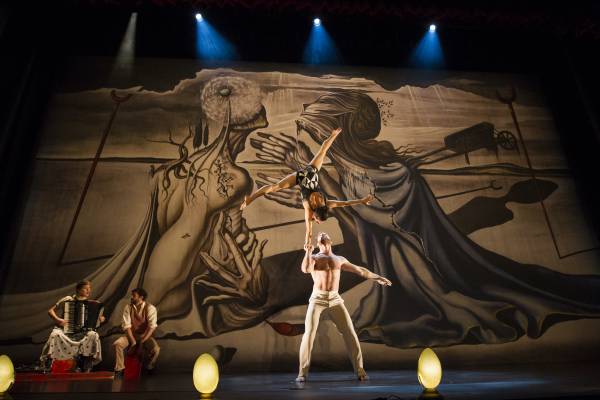 When Salvador Dali thundered on to the world stage in the 1920s he confronted us with images neither seen nor dreamed of before. The singularity of his grotesques, his placid beauty, his demented sexuality and his classicism set him apart from his surrealist peers. So one might have expected more of those qualities to illuminate a show taking a Dali painting, Tristan et Iseult, as its impetus.
Painted for a 1944 ballet called Tristan Fou (Mad Tristan), this tempera and oil scrim (measuring nine metres by 15 metres) was hiding in a box in the Metropolitan Opera. Writer/director Daniele Finzi Pasca gratefully accepted it to create La Verita (Truth) for his Swiss-based Compagnia Finzi Pasca, in which it is deployed regularly enough for us to become conversant with the biggest Dali we'll ever see.
The show combines circus, dance, music and theatre, and while Dali motifs recur in the costumes, props and tableaux, and moments are flecked with a profound beauty, a greater proportion has little to do with his work. This does not make it bad: the acrobatic, aerial and juggling routines are of the highest order, the clowning is amusing and an appealing irreverence sets it all apart from much of its ilk.
Yet here was an opportunity to trim the applause-drawing, gravity-defying twirling and whirling in favour of genuinely dreamlike images to leave us open-mouthed in wonder. It happens when two performers wearing rhinoceros heads are at a grand piano, atop which a third performs acrobatics, and again in a dazzling routine with hoops. But seldom does the show bring our imaginations into play as opposed to our ability to be awed. Perhaps this is unsurprising when "surreal" has become so debased as an adjective as to be almost interchangeable with "amazing".
Nonetheless the company will not disappoint with its extraordinary skill and improbable routines, and the music (both recorded and live) is a joy. Don't sit too close, however: the panorama is more important than the faces.
Until January 17.