Springwood Presbyterian Hall, June 14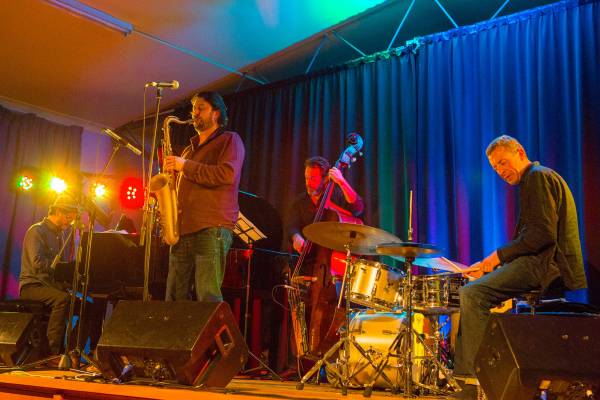 The tenor saxophone is so deeply embedded in jazz that the sound of Coleman Hawkins, Ben Webster or John Coltrane is like the music's conscience. The recent rush of international artists through Sydney brought the profundity of Charles Lloyd's tenor and the quicksilver of Joshua Redman's. Then along comes Melbourne's Julien Wilson, the spiritual heir to Australia's ultimate tenor players: Merv Acheson and Mark Simmonds.
Wilson's This Is Always opus, which recently cleaned up at the Australian Jazz Awards, is his most conventional jazz album, played by a band drawn from Melbourne, New York and Sydney. Unfortunately health issues kept veteran drummer Alan Browne away, and Wilson opted for the polar-opposite Simon Barker.
Where Browne upholstered these songs in velvet Barker overlaid rhythmic puzzles and heightened drama. At first his wilder extravagances seemed an imposition when Wilson, pianist Barney McAll and bassist Jonathan Zwartz were all playing within the expected, accepted idiom. But as the concert progressed, and the more fascinating Barker's conceptual challenges became, the more the band adjusted to his radically different, imaginative and periodically thrillingly primal input.
Sometimes Wilson played so gently that it was no more than breathing coloured by sound. A long melodic line would trail off so gradually that an outline of unheard notes seemed to haunt the air. On Ellington's The Feeling of Jazz each note sprawled voluptuously from the horn, and on his Aberdeen Wilson built such tension that his tenor threatened to explode across the turbulence forged by the band.
Wine and Water had the saxophone subsiding into utter desolation following an introduction from Zwartz that was full of mystery, and yet unfolded as naturally as the seasons. McAll then reminded us that as well as being among the most rhythmically buoyant musicians Australia has produced he has an equally rare ability to create crystalline states of suspended animation.
Make no mistake: this band was just as exceptional and distinctive as Redman's, and the tenor playing more so.