@ Django, September 27
8/10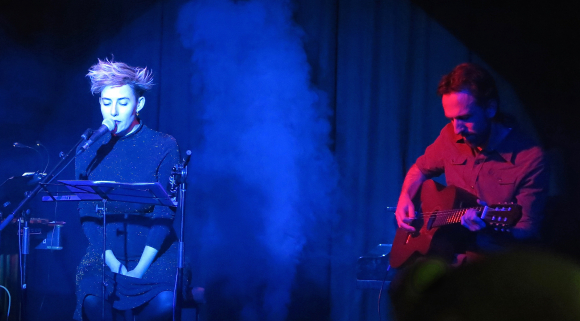 You don't need to spend a day in the family courts to know that love breeds as much anguish as joy: you just have to read poetry or listen to music. Julian Curwin and Jane Sheldon's compositions specialise in love lost, love unrequited and love gone wrong, and they largely build them around pieces of non-English medieval and Renaissance poetry, letting the anguish coexist with a stately grace rather with than modernity's default musical response of hair-pulling and gnashing of teeth.
The purity of Sheldon's operatic soprano and the sparsity of Curwin's nylon-string guitar compound the gracefulness already implicit in their melodies' melancholy lyricism, and here they presented material from their exquisite album The Crossing, in company with the flawless musical instincts of percussionist Jess Ciampa.
Yet, as exceptional and sometimes harrowing as it was, the performance didn't quite attain the heights of the recording. I suspect the ideal context to hear them might be a small church, so Sheldon could sing unamplified, and the transcendent beauty of her voice might be fully appreciated in its dialogue with compositions that so empathetically link the present with a distant past, and with the timelessness of a lover's despair.
Another singer/guitarist combination, the Loud Hailers (singer Christa Hughes and guitarist/singer Ben Fink), opened the evening, and if the subject matter of their songs was not so different, the idiom could not have been more so. Fink and the inimitable Hughes draw on 20th-century African American blues, in which the anguish caused by love stews in a seedier world of drugs and booze, and deliciously results in revenge and bloody murder. Fink is a stinging guitarist, and while Hughes might never be accused of having a beautiful voice, she certainly has a potent one, and is as convincing singing this material as few Australians have been since Wendy Saddington. Like the music's originators, she leavens the desperation with humour, and she and Fink gave us as primal an Amazing Grace as you'll hear.