Camelot Lounge, April 14
9/10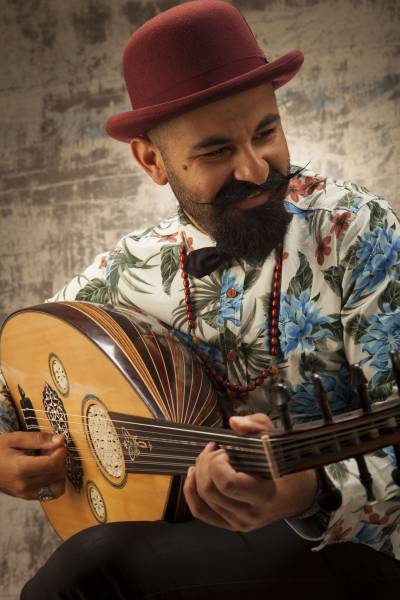 A shattering champagne bottle signals the launch of a ship, and albums are usually launched by playing the music they contain. But what if one has multi-tracked oneself playing 52 instruments and one's brother playing a further 11? This was Joseph Tawadros's dilemma in launching the cheekily titled World Music. His solution was to choose pieces that suited his usual piano/bass/percussion collaborators, while he jumped between piano, cello, nay (end-blown flute), viola, trumpet, qanun (large zither) and even vocals in addition to his usual oud.
This was the first time he has played anything other than oud in concert, and, as with so many multi-instrumentalists, it could have been no more than a circus. Certainly Tawadros is not averse to showmanship (witness the pink jacket on Monday's Q&A!), but that tendency was completely overridden by his profound instinct for making music that is a mirror of truth; a bridge between his heart and mind and those of his listeners.
The first set was devoted to the new material, which more than upheld Tawadros's reputation for excellence as a composer as well as an improviser. As he flitted between instruments like a kid in a music store it was significant that even when his facility was rudimentary his artistry was always refined. Despite his cello playing being tonally coarse-grained, for instance, the crying microtonal lines were riveting in their impact.
As if leant a singular focus by being technically challenged elsewhere, each time he returned to the oud he produced the finest improvisations I have heard him generate, ever: solos of thrilling intensity, spectacular beauty and unnerving emotion.
Tawadros is about to move to London where he will be hard pressed to assemble more sympathetic musicians than pianist Matt McMahon, percussionist James Tawadros and bassist Karl Dunnicliff. Although the latter pair were a little too low in the mix, the playing of all three was nuanced, precise and sparkling with invention and energy, and McMahon routinely showered the music with torrential yet concise improvisations.
Also at Camelot Lounge, May 4, 5 & 9.