ACROBATS
8/10
What's this? John Farnham's You're the Voice?! Now there's a song I never thought could be teased into a freer, jazzy treatment. Nonetheless, here it is on Jo Lawry's Acrobats album, the singer proving there few barriers to her daring. She and her collaborators strip it of all its anthemic bombast, making it more intimate – confidential, even – before lifting it up for a finale featuring Allison Miller's drumming. Hear it to believe it.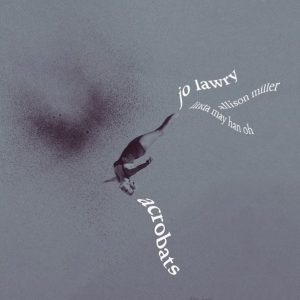 This album has Lawry tracing several circles in the air. One is her return to jazz covers after a decade of being more a singer-songwriter than an improviser in her solo work. Another is the gravity-defying gymnastics of singing with just double bass and drums for accompaniment. Short of performing a cappella, a vocalist can hardly be more exposed, yet Lawry rises to the challenge, delivering aural pirouettes that make this record her best yet.
The courage implicit in this is echoed in the Adelaide-born singer's career: gambling on dealing herself into New York's notoriously off-hand jazz scene, where so many try, only to find a door-deal with 20 people at the bar won't actually pay the rent. A mere dozen locals have survived long enough to make a serious dent, including pianists Mike Nock and Barney McAll, saxophonist Dale Barlow and bassist Linda May Han Oh. Lawry's dent was as a backing vocalist for Sting from 2009, during which time she appeared in the brilliant documentary 20 Feet from Stardom.
Acrobats brings Lawry and Oh together. The latter, from Perth, routinely plays with such luminaries as guitarist Pat Metheny, and has just shared in the Grammy for Best Instrumental Jazz Album: a collaboration led by drummer Terri Lyne Carrington called New Standards Vol. 1, comprised of compositions exclusively penned by women.
Completed by Miller, a US drummer, Lawry's trio instantly becomes airborne on Frank Loesser's Travelling Light, the voice, bass and drums warmly recorded against the stark swathes of silence this instrumentation creates. The title track, by fellow Australian singer Gian Slater, is about the agility and mutual trust necessary to pull off this music, and Lawry's wordless improvising is as playful as a kitten with a ball of wool.
She casts her net back to the 1940s for Taking a Chance on Love, bending it to her needs, and shining one of several spotlights on Oh's engrossing powers of invention. Miller is all suppleness, meanwhile, often energising the music at a whisper. Lawry's net stretches back to 1934 for Cole Porter's You're the Top (which receives a fizzing treatment against just the snap and rustle of Miller's brushes), and to 1926 for 'Deed I Do, the trio flirting with a sophisticated musical cousin of slapstick.
The gulf between You're the Voice and Takes Two to Tango is ostensibly Mariana Trench-deep, yet Lawry shrinks it to nothing in a duet with Oh, who again enthrals with her sumptuous sound and lively creativity. Lawry's vocal dexterity is at full stretch on East 32nd Street, reaching for improbable notes as effortlessly as if picking low-hanging fruit from a tree.
To close, she returns to Loesser, that ultimate singer's friend, her voice dancing across My Time of Day, an audacious I've Never Been in Love Before and finally If I Were a Bell. I don't know about a bell, but Lawry's voice is a certainly a delightfully chiming instrument, and the album is a like gem tossed high in the air, flashing and sparkling – and somehow never falling.