Hayes Theatre, February 21
7/10
This is about as schizophrenic as musical theatre gets. On the one hand, the acting, singing, dancing, direction and design are routinely nothing short of stunning. On the other hand, the show itself, which premiered in 1949, is simply not as good as the movie of the same name (made four years later), which is so fondly tattooed on the 20th-century's collective cultural consciousness.
This is not just a matter of Marilyn Monroe and Jane Russell being hard acts to follow. Of course they are! It's a matter of, firstly, the movie being wittier than the stage show, especially the one-liners that drop like litter from the mouth of Russell's character, Dorothy. Secondly, the extra songs that the musical has are not all numbers you'd necessarily boast about writing – including the title tune, which composer Jule Styne and lyricist Leo Robin should really have thrown out, had a good sleep or a stiff drink, and started again from scratch. And thirdly, the musical's narrative is awry, with Lorelai (Monroe's character) missing for a slab of Act One, and Dorothy missing for most of Act Two. The film redressed this imbalance.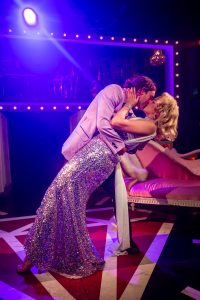 The stage show was adapted by Anita Loos and Joseph Fields from the former's eponymous novel, while the screenplay was adapted from the musical, and penned by Charles Lederer. Ultimately it's a shame that copyright complexities probably prevent anyone from hybridising the best bits of both movie and the musical.
Given that the show is what it is, director Richard Carroll's production often glistens like the diamond tiara that Lorelai covets. Georgina Hopson plays Lorelei, the impressively versatile Emily Havea plays Dorothy, and both manage to charm us, enchant us and stun us at various times. Their characters are larger than life and deliciously manipulative, with Hopson quicker to win us over at the outset, and Havea quickly catching up.
The show's treasured centrepiece, Diamonds Are a Girl's Best Friend, brought the house to its feet. Where Monroe purred her way through an army of choreographed men, Hopson goes it alone in a much rowdier rendition, armed with a stupendous voice, her soprano extension reaching in the glass-cracking stratosphere. The performance's only flaw is that some of the brilliant lyrics are lost amid the barnstorming.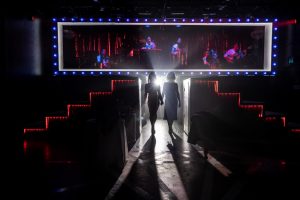 Carroll's cast is devoid of weak links, with Thomas Campbell (Sir Francis Beekman), Octavia Barron-Martin (Mrs Spofford), Tomas Parrish (Josephus Gage) and the rest all ensuring no laugh is lost. Leah Lim is particularly sensational in realising Sally Dashwood's sassy choreography. At least as notable is Daniel Potra's set design, which ingeniously reimagines the use of the Hayes Theatre's stage and the placement of the band. Angela White's costumes match this with endless flair of their own, most notably in Dorothy's endless-changing attire.
As well as leading the band, musical director Victoria Falconer is marvellously entertaining leading us into Act Two with a funny recap of the story. She has cunningly trimmed Styne's orchestral score down to something that can be realised by just a quintet: her own piano and violin joined by reeds, guitar, bass and drums. It's a demanding show, and the band acquits itself exceptionally in rhythmic terms, with just a few intonation issues for the violin and reeds.
Co-presented by Sydney WorldPride, this suggests we're in a for wild ride during the tenure of Carroll and Falconer as the new joint artistic directors of Hayes Theatre, and all fans of the film should see it.
Until March 18.