"If I can make it there/I'll make it anywhere," sang Frank Sinatra about New York, the world's jazz Mecca. Since Frank sang that jazz ceased to be a style so much as a language common to improvising musicians from Mumbai to Rio. Sydney's annual inundation of artists from Melbourne's International Jazz Festival contains three significant figures holding diverse attitudes to New York's place in the scheme of things.
Pianist Stefano Bollani, who is duetting with Brazilian bandolim virtuoso Hamilton de Holanda, still calls Italy home, and, when pushed, nominates humour and a love of melody as vaguely Italian elements in his music. He has recorded in New York and loves its musical wealth, but says he would never live there.
That has not prevented pinnacles like playing alongside fellow pianist Chick Corea (as Herbie Hancock is doing in Sydney). Asked if he that was an imprimatur of sorts he replies he had already received that when he joined the great Italian trumpeter Enrico Rava. "To me he was as much a genius as Sonny Rollins or whoever," he says. "We played together in a jam session in 1996 when I was waiting for a pop tour to begin. He was so nice and made me understand that I could make it playing my own music or playing jazz, and so I said no to that tour and everything started."
Richard Bona, by contrast, grew up in a tiny Cameroonian village with no shops to buys instruments, so you had to make your own – and teach yourself how to play them. By the age of five he was in the church band, and thereafter made and played a host of instruments before discovering jazz in 1980, whereupon electric bass became his focus.
In 1989 he went to Paris to broaden his horizons, and six years later moved to New York. "I was so excited," he recalls. "New York was the scene. You're in a club, jamming, and you have Branford Marsalis and Joe Zawinul right there, which hadn't happened in Paris. Two weeks after I arrived I was on the road with Joe Zawinul. Next thing you know I'm Harry Belafonte's musical director… If you are a musician I think NY is a great place at least to check out. It's important, even today."
Melbourne pianist Marc Hannaford is currently New York-based, completing a PhD in music theory at Columbia University. Meanwhile he has also been exploring the music scene. "It's a process of going to see music and trying to find people that are interested in the same things that you are," he explains. Hannaford's specific area of interest is the collaborative development a sometimes complex improvising language. "One of the difficult things," he says, "has been finding people who are willing to invest a lot of time practising music that doesn't necessarily result in a gig in a month or something."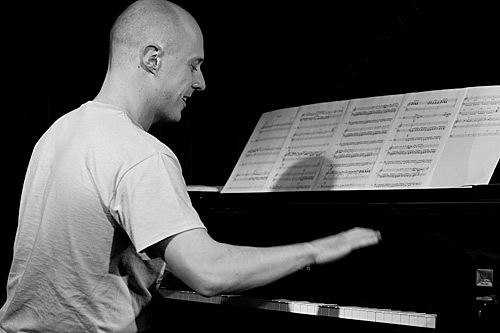 Without the doctorate he doubts he would be there. "I was never really one of those jazz people who saw New York as the beacon of the world," he says. "There are so many people here, and the number of opportunities compared to the number of people is miniscule."
For this visit Hannaford's band includes two Big Apple heavyweights in drummer Tom Rainey and saxophonist Ellery Eskelin.
The Jazz Deluge
May 28 The Bad Plus, Foundry 616
May 29 Marc Hannaford Quartet (Aus/US), Foundry 616
May 30 Richard Bona (Cameroon/US), Basement
June 1 Chick Corea & Herbie Hancock (US), Concert Hall
June 3 Eric Harland's Voyager (US), 505
June 3 Duo Ras Dashen (Israel/Ethiopia), Foundry 616
June 4 Miguel Zenon Quartet/Jazzgroove Mothership Orchestra (Puerto Rico/US/Aus), Basement
June 5 Stefano Bollani & Hamilton de Holanda (Italy/Brazil), City Recital Hall
June 5 Pharoah Sanders (US), Carriageworks
June 6 Pharoah Sanders, Carriageworks
June 6 Dee Dee Bridgwater/Irvin Mayfield Jr & the New Orleans Jazz Orchestra (US), City Recital Hall
June 6 Lloyd Swanton's Ambon (Aus), Blue Mountains Theatre