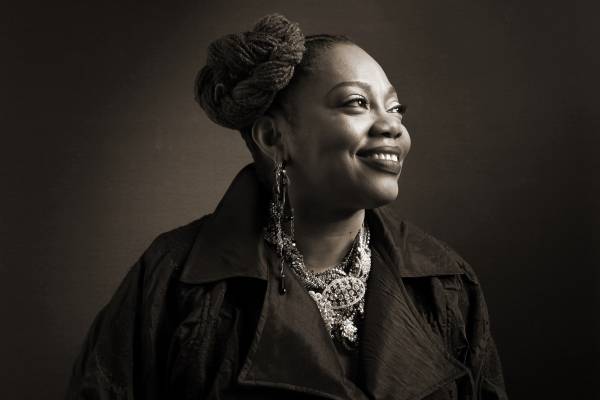 It was the music she heard each week when her mother was ironing: Sarah Vaughan, Ella Fitzgerald, John Coltrane, Abbey Lincoln, Miles Davis and more. They seeped into Dee Alexander's pre-school consciousness and heart and stayed there. So years later, when she took to singing, perhaps it was inevitable that the Chicagoan ended up pursuing jazz rather than the R&B with which she started her career.
"I loved the freedom, the chances that you could take singing jazz," she says on the telephone. "I like taking chances. How else will find out if something works unless you try it?"
Unlike most jazz singers, who hug the mainstream of the idiom as if danger lurks in every eddy, Alexander has relished singing in the more experimental context of Chicago's renowned Association for the Advancement of Creative Musicians (AACM). "I'm really fortunate," she says, "to have had the advantage of working with such wonderful and creative musicians; of thinking outside of the box, and knowing how to come back into the box. And that's nothing that you can actually sit in a classroom [and learn] or get out of a book."
Alexander is about make her first visit to Australia to headline this year's Sydney International Women's Jazz Festival. Her albums suggest a singer of the quality of Dianne Reeves or Cassandra Wilson, and she is happy to acknowledge her influences. "I'm honoured when someone says I remind them of Sarah Vaughan, Billie Holiday or Nina Simone," she says. "That's a great compliment, because these great ladies paved the way for me and for future generations to come… Everyone is influenced by someone or something, and everybody has their own voice. It's just a matter of finding it."
She says she has never felt conflicted about fulfilling other people's expectations of what a jazz singer should be as she has moved between singing standards and being a wordless improviser in more freewheeling contexts: "I just think 'To thine own self be true'", she says. "Pretty much if it makes you happy, then someone else will get some happiness out of it as well."
Nonetheless she is adamant that there is no substitute for experience when it comes to imbuing a lyric with truth. "When you've lived life, when you've been in love and had heart-break – all of those things make a great artist even greater. I'm not wishing anything bad on anyone! It's unfortunate that you have to go through such turmoil and pain, but I think that's when a person can really dig deep into their soul to express the feelings that they're experiencing at that time."
Dee Alexander: Foundry 616, November 5, 7 & 8.