Lennox Theatre, February 18
8.5/10
Some plays round lives in the way that wind and rain round mountains into hills. They smooth the kinks and jutting edges into neat developments and neater endings, so we sit there thinking we're watching life unfold, when what we're watching is an abridgement, a travesty or even the opposite of life.
Life is actually about being mute when you need to be articulate; about declining opportunities that should have been grasped. It's about traffic jams, unpaid bills, unravelling plans and skeletons that never stop dancing in your closet. Fundamentally it's about emotional messes for which no mop has been devised.
American dramatist Tarell Alvin McCraney, best known for his screenplay for the exceptional 2016 film Moonlight, is not the first to write about the mess rather than the mop. But in Choir Boy – here having its Australian premiere – he does it while subtly twisting knives between such carefully selected ribs of his characters that each blade becomes a note in a fractured melody.
As he explains in his program note, when he began writing this play about homophobia, classism and gender expectations in 2007, it was to remind us how far the world had come. In 2022 the frightening lurch to the right in US social policies makes it a "lament on how far we have to go", instead.
His protagonist, Pharus (Darron Hayes), is a queer student at a conservative Christian high school for African American boys. Such a premise could have set in train any one of many well-worn coming-out and coming-of-age plot-lines. McCraney shuns those, however, in favour of the confusion of it all, in which a moment's kindness can be sacred; in which resilience can flicker back to life, just when you think it's been snuffed out for good.
Joint directors Dino Dimitriadis and Zindzi Okenyo highlight the play's humour in this National Theatre of Parramatta production, but lose some of its intensity. What they do maximise is its music, because the beating heart of the Charles R Drew Preparatory School for Boys is the choir and its lavishly harmonised spirituals. The seven actors playing the boys, cast for their singing at least as much as their acting, have been expertly drilled by musical director Allen Rene Louis. Songs like Motherless Child are not incidental: they are the redemptive blood that cleanses the bullying, the malice, the shame and the injustice. The force of this is echoed in Tarik Frimpong's swaying choreography, as the different voices blend as perfectly as cut flowers in a bunch.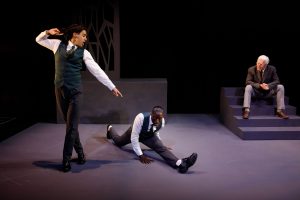 Hayes is a livewire Pharus: funny and sassy, as well as being bright, talented, ambitious and mischievous. If yet another layer of human complexity is missing, that probably applies to the production as a whole. Zarif stands out as Bobby, the bully-in-chief, who happens to be the headmaster's nephew. His is a brooding presence, glowering at Pharus like a hail-laden sky. Theo Williams deploys a sweet voice and gentle-giant persona as David, who already has his calling to be a pastor, Abu Kebe is a charismatic Junior and Quinton Rofail Rich comes into steadily sharper focus as Pharus's caring room-mate, AJ.
Robert Harrell slightly overplays the headmaster, while Tony Sheldon delights as Mr Pendleton, an amusingly absent-minded guest teacher, who aims to encourage creative thinking, and, against the odds manifest in the boys' sniggering suspicion, succeeds.
If the performance can become slightly less busy and more centred, it will gain intensity, and fully bring to life what is a major play.
Until March 11.