THE MUSICIAN
(Concerd/Planet)
9.5/10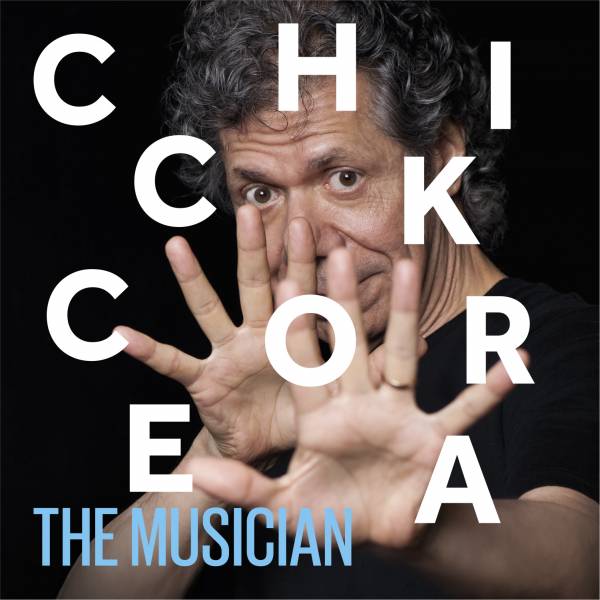 A couple of years ago I introduced – with some wariness – scores out of 10 with these reviews. The implication of the 9.5 score accompanying this one is not so much that the music consistently approaches perfection as that I can't imagine that, as a complete package, these three CDs and the accompanying 96-minute Blu-ray documentary could be conceived of, assembled and produced any better. For anyone with the slightest interest in Chick Corea's music it is simply a must.
As he did for his 60th birthday in 2001 and his 70th a decade later, Corea took over New York's Blue Note jazz club for several nights in 2016 to celebrate his 75th birthday. The 10 different collaborations contained on the three discs include many of the world's most revered jazz musicians.
But the place to start is the film, which bears the set's title and is directed by Arne B Rostad. Instantly joining the ranks of the great jazz documentaries, this was largely filmed during Corea's 70th birthday celebrations, with an almost identical line-up of guests to those on the CDs of the more recent festivities. What hits home is the warmth of camaraderie that the pianist shares with all his collaborators, and the degree to which the playfulness that is such hallmark of his art is also embedded in the process of making it.
Ultimately this becomes a documentary about the love and respect implicit in collective music-making. The Spanish singer Buika talks about how Corea makes it easy for everyone to do what they do, and that is abundantly evident in all the rehearsal footage. He also has a knack of making everyone who works with him sound better. And yet, with typical humility he describes his role as leader as essentially being one of staying out the way until someone is needed to step in and tie together loose musical threads. The balance between music and talking heads – so often a bane – is deftly managed, and Corea talks about his collaborators as much as they talk about him.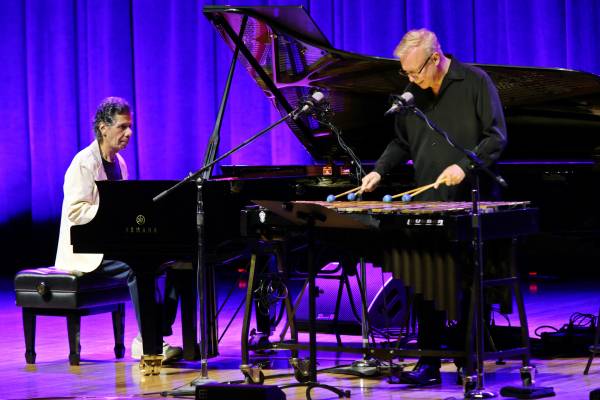 And so to the audio discs. Kicking things off on a high is an "unplugged" incarnation of Return to Forever with bassist Stanley Clarke, drummer Lenny White and guitarist Frank Gambale, in which Corea concentrates on piano and Clarke plays double bass. The tunes, Captain Marvel and Clarke's Light as a Feather both contain brilliant examples of that dominant hallmark of Corea's playing, effervescence, and the music is so energised that even Gambale's playing sounds less clinical than is often the case.
Nonetheless I'd have preferred to hear proportionally more of the next band, Chick Corea Trio, with bassist Gary Peacock and drummer Brian Blade. They play I Hear a Rhapsody with such rapturous flair that you don't want it to end. The rapport between Corea and Peacock carries echoes of that between Bill Evans and Scott LaFaro, while Blade keeps washing this dialogue with different colours, and then uses brushes to craft a patchwork of rhythmic shadows behind Peacock's enthralling solo.
A different side of Blade is on display amid the ferocity of the Five Peace Band, which manages to raise the energy stakes even compared with Return To Forever on Corea's Spirit Rides. John McLaughlin's guitar playing is heavily featured here, as is one of his compositions in the gentler (initially!) Special Beings. With saxophonist Kenny Garrett and bassist John Patitucci completing the line-up this remains an astoundingly flexible aggregation.
Speaking of flexible Bobby McFerrin surely has one of the most elastic voices ever, and he joins Corea for a frisky I've Got the World on a String and then a gripping and intensely creative Spain. This is McFerrin at his most haunting, while Corea still finds fresh implications in his own masterwork. Perhaps nowhere is the breadth of his musical interests made more overt than in the contrast between the duets with McFerrin and those with vibraphonist Gary Burton. If the McFerrin pieces spotlight Corea at his most playful and adventurous, the Burton collaboration has long epitomised him at his most elegant. That elegance is here heightened by his arrangements for the Harlem String Quartet, joined on Your Eyes Speak to Me by the vocals of his wife, Gayle Moran Corea, who co-penned the song. Right from her association with the second incarnation of the Mahavishnu Orchestra I was never I huge fan of her singing, however, and time has not been overly kind to it, so the piece sounds a little laboured, like much musical theatre does.
But the collection then bounces straight into a true high, even if it is one tinged with nostalgia. Corea is joined by two old mates from the Miles days in drummer Jack DeJohnette and saxophonist Gary Bartz, and they are joined by trumpeter Wallace Roney and bassist Eddie Gomez on If I Were a Bell and Nefertiti. Jack is magnificent, stacking explosives beneath the soloists one moment and dancing lightly around them the next, in tandem with a sparring partner of half a century's standing in Gomez. Roney is thrilling and Bartz is simultaneously exploratory and emotionally direct. Behind them Corea gives a masterclass in accompaniment, which to his agile musical mind is not so much the art of reaction as of anticipation.
This is followed by another band that does not play Corea's compositions: Flamenco Heart, which explores the man's love of Spanish music in a much more authentic way than on the charming pastiches of My Spanish Heart all those years ago. This is a quintet featuring flamenco guitarist Nino Josele and the densely smoky voice of Concha Buika, plus reeds player Jorge Pardo, bassist Carles Benavent and Corea's old associate Jeff Ballard on drums and percussion. It may be flamenco through a Corea prism, but it is haunting and electrifying music.
The final disc opens with Corea, fellow pianist Marcus Roberts and trumpeter Wynton Marsalis playing a blues, before the two pianists kick up some sand on an evocative Caravan. Then Herbie Hancock joins for more piano duets on standards. The pair become instantly airborne on Hot House, while enjoying a kind of light musical banter that is the latest instalment of decades of verbal and musical sparring. Even better is the way they open up Hancock's Dolphin Dance, so that the underlying chord changes are still present, while layers of luminous abstraction are piled on top, like phosphorescence on the sea at night. For a third offering they pass the groove of Cantaloupe Island back and forth between them with increasing excitement.
The finale is provided by a reunion of the Chick Corea Elektric Band, with Gambale, Patitucci, drummer Dave Weckl and saxophonist Eric Marienthal. The fiercest of the bands, this is also the only project that sounds a little dated at times, even if Patitucci's supple drive and Corea's bubbly invention still shine out. But I guess it's a popular part of the man's history and deserves its place.
What's missing? There is nothing with Steve Gadd, and Corea his never returned to arguably his most significant band of them all: Circle. Nonetheless this set contains a combined five hours' of immense pleasure from a musician who sounds 75 years young.