New Theatre, February 13
8/10
At first it seems unnecessary; an irritant even. Just because Hugh Whitemore's 1986 play is skilfully structured to jump between eras in protagonist Alan Turing's life, do we really need three actors playing Turing and two playing his mother? Does director Anthony Skuse not believe his audience can grasp various versions of then and now?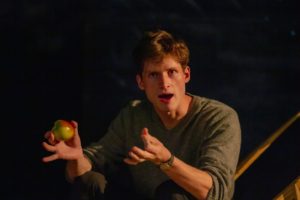 And then it dawns on you what Skuse is doing: he's ritualising the play's events to emphasise their endless repetition throughout history. This is the director's art on full display: not tampering with an exceptional text, but compounding its impact.
The events in question concern one of the last century's great minds. Turing not only invented the digital computer, he shortened WWII by solving the Enigma Code, the Germans' method of encrypting information. His tragedy was that his homosexuality was deemed a greater sin than his genius was a virtue.
Skuse's three Turings all convince in a role that must convey superior intelligence blighted by arrogance and stunted social skills, including emotional cruelty. Ewan Peddley is the precocious teenaged Turing, Harry Reid the middle Turing, and Steve Corner the "older" Turing (he was dead at 41). The three actors sharpen the focus on the curve of his life, with Peddley petulant and impatient, Reid compelling as a Turing revelling in his mathematical, scientific, mechanical and sexual discoveries, and Corner a more pompous yet harrowed man, perhaps capable of taking his own life.
Having two iterations of his mother (Leilani Loau and Jess Vince-Moin) could still seem extraneous, yet it, too spreads the experience of dealing with a child coming out, and the scene between Reid and Loau in which the latter convulses through shock and grief to acceptance, before returning to unconditional love, is profound. Similar in its impact is a scene between Reid and an admirable Martin Portus playing Knox, Turing's wartime boss, a closet gay who warns him against making his sexuality too obvious. Bridget Haberecht also deserves plaudits as Turing's colleague and fellow intellectual, Pat, who suffers a love that can never be requited.
The production's flaw is that Skuse, not trusting the text and actors to suffice, has Patrick Phillips' oneiric projections accentuating the play's recurrent dream fixation. But you could play this production in a naked cell and the dreams and nightmares would still be real.
Until March 5.