Concert Hall, April 19
Reviewed by John Shand
6.5/10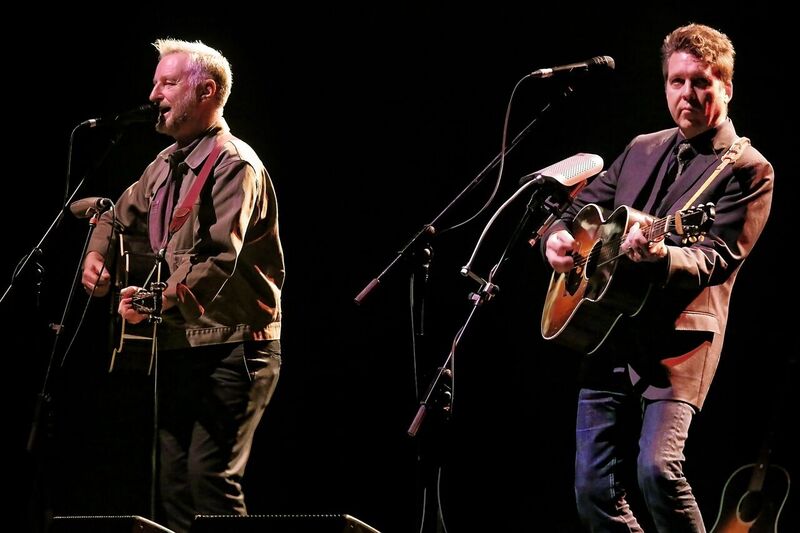 Amid the massed "rationalising" of publicly owned assets, the Opera House's Concert Hall could be sold off as a pub. Lower the ceiling, rip out the seats, install a bar, punch holes in the sails for upstairs accommodation, et voila! The right entertainment was already in place, the intimacy of Billy Bragg and Joe Henry's songs from the heyday of American railroads seeming rather dwarfed by their grandiose surroundings.
This was turned on its head when Bragg offered a solo set to open the second half, and suddenly sliced the air with an intensity to scare a room twice the size. The first blow he landed was a blistering anti-Trump reworking of Dylan's The Times They Are A-Changin', with "back" affixed to the refrain. Three songs later he dedicated Accident Waiting to Happen to Theresa May, and then gave us a typically perspicacious discourse on why the hard right sees empathy as a weakness.
Henry had given us his own solo bracket to close the first half, which showed off the conviction behind his singing and edginess underpinning his song-writing, although a certain homogeneity crept in, with the finest piece being Allen Toussaint's potent Freedom For the Stallion.
These two solo sets were book-ended by the duo's Shine a Light collaboration that was born when they travelled by train from Chicago to Los Angeles via San Antonio. Along the way they recorded songs like Railroad Bill, John Henry, Lonesome Whistle and The Midnight Special: Lead Belly-centred Americana blurring the line between blues and country, and celebrating what was once an iron metaphor for freedom and opportunity (just as the car became for later generations). Bragg took the lead vocal on most, with Henry supplying a higher harmony, and both strumming or picking at their acoustic guitars. A window on the past, the project had a certain charm alongside a certain sameness, the oddity being this material showed off neither performer to best effect. That came by themselves. Perhaps it would have been different in a pub…