Venue 505, November 21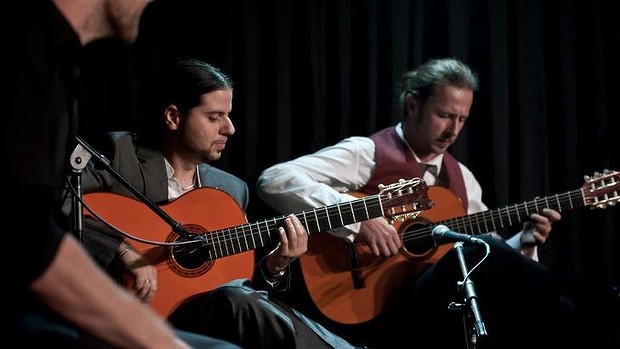 Flamenco is not just an art form, but an attitude. It seems to say to Death, "Not yet," and magnifies the life force into as complete an expression of what it is to be human as may be found in any art. It can be as delicate as confidence and as volatile as temper. The challenge for the artist is to make flamenco this sweeping and complete; wildly energised yet graceful; violently impassioned yet elegant; desolately sad, yet never despairing.
Damian Wright's Sydney-based Bandaluzia Flamenco aspires to meet these demands. That it can fall short sometimes is less significant than its desire to keep learning and improving (which it does); less significant than Wright's open-hearted embrace of diverse collaborators who significantly vary the ensemble's colour and intensity.
Joining Wright (guitar) were regular percussionist James Hauptmann and regular dancer Jessica Statham, plus guests Matt McMahon (piano), Johnny Tedesco (dance) and, from Spain, Flavio Rodgrigues (guitar, vocals). They excelled at different aspects of this art that demands a certain virtuosity as a base, and between them they had most aspects covered.
Standing out was Rodrigues, who caught the music's inherent drama with his spectacular dynamic shifts between crashing chords and filigree melody. His singing, although restrained to begin and occasionally slightly wayward in pitch, was truthful, unaffected and, at its best gripping, if not quite impaling.
Tedesco's rhythmic virtuosity and dynamic control were exhilarating. Here was all the fire one could ever want from flamenco dance, and Statham was a worthy foil with her grace, litheness and more muted drama.
McMahon's contributions were extensions of the idiom rather than being from its core, but his melodic inventions always had a suppleness to suit the context. Hauptmann's articulation of the sometimes complex rhythms on cajon was precise and either restrained or vigorous as required.
Elegance, meanwhile, is more Wright's forte than blazing virtuosity: an elegance he imbued with considerable warmth, including in his compositions, even if he may never be a firebrand.