The Baroque Room, July 4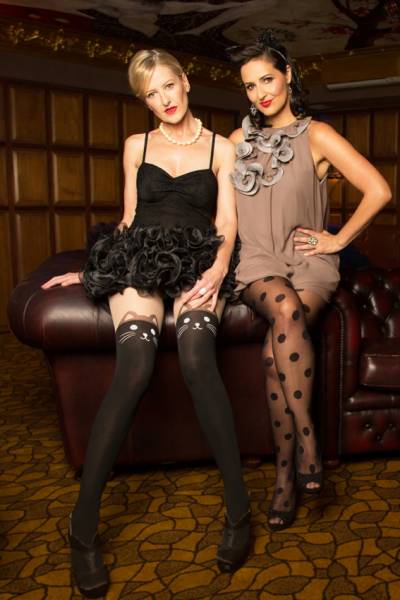 Putting Napoleon, the Rainbow Warrior bombing and arrogant waiters to one side, the French have been better for the rest of the world than just about anyone else. Champagne, Moliere, Monet, Debussy, Malle, Burgundy, baguettes and brie alone would put them in hot contention, but the list runs on and on. Baby (Abby Dobson) and Lulu (Lara Goodridge) are local arch Francophiles who, with their second album – Album Deux (naturellement) – have taken to writing their own songs in French as well as continuing to cover admired and lesser-known chansons.
Happily both can write as well as sing, and in keeping with France being the epicentre of fashion they present themselves stylishly even as they send up the ditsy cuteness of their French obsession.
Just as they love beating eggs the French like froth in most things, including music. Love is the subject of choice, 3/4 the favoured rhythm and the accordion the preferred sound. Most of the Baby et Lulu repertoire is cute or funny or both, and Dobson and Goodridge are able of delivering it as if born to the task. This would wear thin, however, did they not give the show a little spine via pieces like Serge Gainsbourg's Je Suis Venu Te Dire Que Je M'en Vais and Piaf's Padam, Dobson nailing the latter and with Marcello Maio's bittersweet accordion the featured accompaniment.
Bassist Mark Harris was another major asset, offering a convincing third harmony, being the catalyst for much of the 'tween-song wit zipping about the stage and adding supple bass lines to a song like Meme Quand Je Dors (harking back to Dobson's Leonardo's Bride days). Several tunes were illuminated by Goodridge's expert violin and the band was completed by Julian Curwin (acoustic guitar) and Ross Harrison (clarinet/alto saxophone).
This accompaniment cushioned the rapport, tight phrasing and close harmonies of Baby et Lulu, who brought sufficient charm to bear to make a goofy idea entertaining.
Baby et Lulu: Camelot, August 1.