Drama Theatre, February 12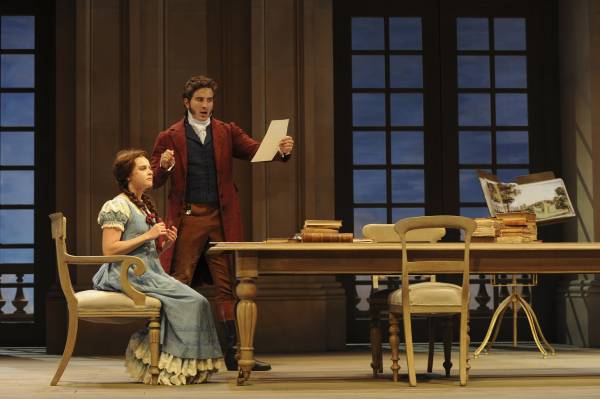 8.5/10
Let the rain fall on your windscreen with the wipers off and watch randomness with which some droplets merge into a trickle that commandeers other droplets and hurtles ever faster to its doom. What if that process were not random? What if there were a pattern to the cause and effect that could be expressed mathematically? Such questions underpin the heady nexus of physics, mathematics, philosophy, history and literature that froth and bubble in the test-tube of Arcadia over the Bunsen-burner of Tom Stoppard's mind.
Director Richard Cottrell maintains in the program's liner-notes that it is Stoppard's finest play, a point to which we shall return. It is probably his most ambitious play, and the one in which the ideas are mostly tightly interwoven into the actual plot and structure of the work. These, centred around determinism, but ranging across heat-transfer, chaos theory and the real-life applications of algorithms are seldom presented as dry discourse but as genuine plot movers via the ingenious device of the two time-settings, one beginning in 1809 and one in the present (or 1990s); both in the same country house.
Unlike in some of his other plays Stoppard relies less on laughs to keep his audience engaged, and more on the ideas themselves – most notably Thomasina's mathematical theorizing – as a carrot that we feel compelled to keep following even if its implications remain tantalisingly out of reach until the end.
In such a theatrical context the actors assume an additional role of humanising the mad whirl of concepts as well as playing out the subplots of seduction, literary criticism and class politics. To this end it is hard to imagine the play being more ideally cast. Georgia Flood's Thomasina – the play's most remarkable intellect in some strong company – is wonderfully unselfconscious about her intelligence, learning and curiosity. The latter quality makes her fizz with a lust for life even as she experiences a confusion of love and lust for her tutor Septimus Hodge (Ryan Corr) and the unseen Lord Byron. Corr is masterful at making a casual sexual dalliance or a putative duel just other aspects of an urbane and polymathic man's busy days (and nights). Blazey Best crunches down with relish on every syllable of Lady Croom in her born-to-rule oscillations between vacuity and perspicacity. Meanwhile in the present day Andrea Demetriades bristles like a porcupine as the sharp and wary author Hannah, while engaging in badinage with the admirable Josh McConville as Bernard, the ambitious academic, and Valentine (an excellent Michael Sheasby), who apparently inherited some of Thomasina's gene for genius. Honey Debelle, Jonathan Elsom, Julian Garner, Glenn Hazeldine, Will McDonald and Justin Smith complete the admirable cast.
In Michael Scott-Mitchell's set the "large table" that Stoppard calls for becomes monstrous on the Drama Theatre's letterbox stage and the centre for all the action. This could easily have seen people bobbing up and down and playing musical chairs for little apparent reason, but Cottrell moves his players around this imposing piece of furniture with a graceful, unforced fluidity that is very much in keeping with the elegance of Stoppard's writing and intentions.
So does this excellent production confirm the play as Stoppard's finest? I think not. While, like Shakespeare, he pulls off that most miraculous coup de theatre of having no audible playwright's voice intrude, so the ideas collide with one another in patterns both chaotic and ordered, he does not quite provide the same cushion of air for those concepts to ride upon that he does in, say, Jumpers. That cushion, of course, is the humour. Although it still abounds in all its guises – Wildean wit, arch irony, ludicrous hyperbole, scathing satire and even tortoise jokes – there are times when the play slows under its own weight of ideas, with nary a laugh on the horizon to kick-start it again, even if this is just for a few minutes at a time. I am not suggesting the Stoppard should be judged by some laughs-per-minute criterion; it is just that when the humour sags we are all too quickly confronted with an impenetrable wall of algorithms. Nonetheless it is an infinitely cleverer piece of dramatic writing than 99% of its competition, and this production for Sydney Theatre Company shows it in its best possible light.
Until April 2.
Link: https://www.sydneytheatre.com.au/whats-on/productions/2016/arcadia