Joan Sutherland Theatre, September 8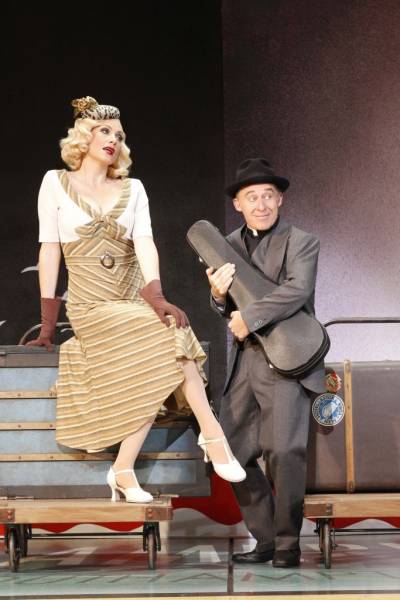 My immediate neighbour's response – slumbering tenaciously through Act One and then leaving – was harsh. Perhaps she was at High Society the night before and found two Cole Porter musicals in two nights somewhere between one and two too many, although Anything Goes has the cleverer plot, more laughs and includes that slice of genius, I Get A Kick Out Of You.
But let's not fool ourselves that it's a great musical: when madcap humour and high wit boarded the ship on which it is set, silliness and lameness stowed away. It is like a Marx Brothers movie with variable-quality songs inserted, and it creaks under its 81 years. For every It's De-Lovely or Anything Goes come two songs of the awfulness of There'll Always Be A Lady Fair or Public Enemy Number One, and the spot occupied by All Through The Night cries out for something of Night And Day quality.
Nonetheless Dean Bryant's production for Opera Australia and the Gordon Frost Organisation certainly puts a dazzling sheen on the old silverware. Dale Ferguson's set and costumes (especially the 1930s gowns) look stunning before a note is sung, and Bryant's casting is impeccable.
Caroline O'Connor (as Reno) shakes vim and panache over the show like so much magic dust. If her I Get Kick Out Of You was oddly muted, by You're The Top (with Alex Rathgeber as Billy) it was impossible to take your eyes off her. She tore up Blow, Gabriel, Blow, and delivered the evening's best dancing in a duet with Todd McKenney (Evelyn) on The Gypsy In Me.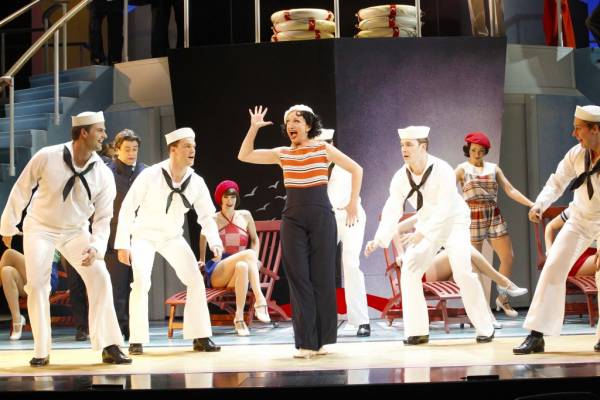 McKenney's role kept him on a tight, if amusingly foppish, leash: just another cartoon character dashing about the stage all but throwing cream pies in faces. Perhaps the funniest is Debora Krizak's Erma, the underworld mole who can extract a sailor from his suit faster than you could read this sentence.
Rathgeber's light, sweet tenor suits Billy's boyish ingenuousness, just as Claire Lyton's brittle voice and cake-decoration prettiness are perfect throwbacks to the '30s. Wayne Scott Kermond is appealingly goofy as Moonface the gangster, and Gerry Connolly, Carmen Duncan and Bartholomew John compete the A-grade principals.
The zinging Gabriel routine apart, the ensemble serves Andrew Hallsworth's choreography best when being elegant rather than energised, and the tap-dancing in the title song suggested the cast was taking the name too literally. Peter Casey's band, set high upstage, was zippy and accurate, and both sound and lighting were exceptional.
This daffy old show that just requires clowning rather than acting receives an expert facelift, but surely better options for Opera Australia's annual musical existed.
Until October 31.