As a young trumpeter he used to practice near an open window, just in case Louis Armstrong was wandering past and heard him. Not that Armstrong lived in St Louis, but Lester was an optimist. He'd always trot off and audition when Ray Charles came to town, again without luck. His trumpeter father had taught him since he was five, and by his teens Lester Bowie was gigging in blues, jazz and carnival bands. Then he became musical director (and husband) of soul singer Fontella Bass, just as she had a global hit in 1965 with Rescue Me.
Having figured he could now play damned near anything with anyone, he ran into saxophonist Roscoe Mitchell in Chicago, and realised there was still a higher plane, where brilliant playing dovetailed with deep thinking. Lester swiftly latched on to Mitchell's idea that all music was relevant to the art of the improviser, so he didn't have to turn his back on any aspect of his grounding. He joined Mitchell's band, which soon metamorphosed into the Art Ensemble of Chicago. They didn't call it jazz. They called it Great Black Music.
After a stint in France, they returned to Chicago, where crazy Lester delighted in riding his motorcycle all the way to the West Coast for gigs, while the others flew. In 1978 they recorded for Germany's ECM label, and suddenly their profile and audience exploded, to the extent that Lester could even bring his eight-piece band, From the Root to the Source, to Australia.
In January 1981, a year after the Art Ensemble had been here, they played several unforgettable nights at the Capitol Theatre, Lester wearing his perennial white lab coat: part ringmaster, part healer, part showman and, along with Miles Davis, one of the two most expressive trumpeters I've heard in the flesh. His band's singers, Fontella Bass (long after their marriage had ended), her mother Martha and her baby brother David Peaston, were joined by illustrious bassist Reggie Workman, bulldozing baritone saxophonist Hamiet Bluiett, pianist/organist Amina Claudine Myers and drummer Phillip Wilson.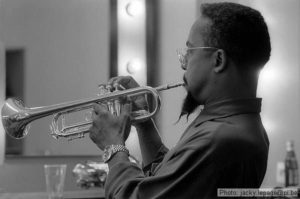 In the course of each night they touched upon blues, gospel, bebop, free improvisation, soul, Latin, circus and any other sort of music that had been part of Lester's life or the African American experience more widely. Sometimes they were presented in discrete songs, but more often the demarcation was blurred, and one idiom morphed into another almost bar by bar, to become a crazy fantasia of the gamut of African American musical culture. Lester's point? It was all one.
While here he was my first ever interviewee, and I was as nervous as a cat at a vet's. I needn't have been. He was the most charming, amusing, intelligent, willing subject imaginable. Yet, for all his zany light-heartedness, when, a few years later, Wynton Marsalis began espousing neo-con jazz propaganda, it was Lester who called him out. Five months after the Oz tour, and a year after the singers and band, minus Lester, had recorded an all-gospel album simply called From the Root to the Source, a slightly revamped line-up recorded The Great Pretender, offering a more rounded glimpse of what happened on those astounding nights at the Capitol. The highlights were the title track, a 17-minute version the old Platters hit that unwinds to blazing solos and sews itself back together, and a Latin-flavoured Bowie original, Rios Negros, that contains some of his most moving trumpet playing, fuelled by Wilson's thrilling drumming.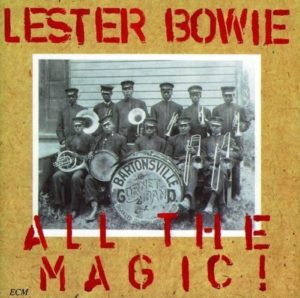 A year later came the more consistent All the Magic!, which ranges across For Louie (a soulful tribute to the man Lester hoped would hear him through the open window), a rollicking Let the Good Times Roll and, above all, Peaston's angelic voice arching up to the heavens on the gentle Everything Must Change. Lester may not have been much of a church-goer, but he helped brew the best gospel music you'll ever hear. He died in 1999.
All the Magic! streams on Apple Music and Spotify; on disc in the Art Ensemble of Chicago and Associated Ensembles box set from Birdland Records.