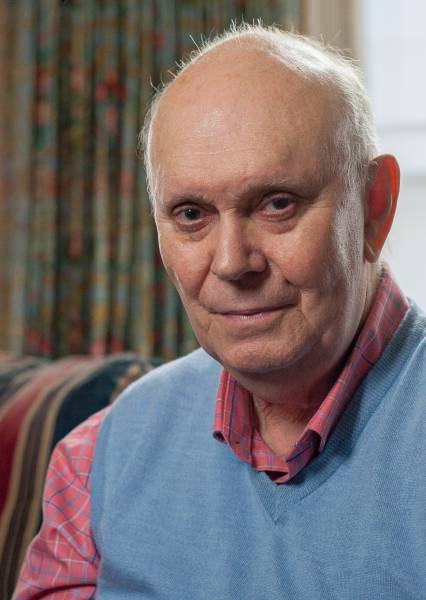 Playwright Alan Ayckbourn received his first review at the age of 10, the critic being a fellow schoolboy. Ayckbourn had adapted one of Anthony Buckeridge's popular Jennings children's books, and had cast himself in the role of the comic sidekick. Then he contracted a highly infectious disease, was packed off to the school sanatorium, and missed the only performance.
Mournfully gazing out the sanatorium window, he saw a boy "scuffling his feet across the asphalt", he recalls on the telephone. "I shouted down to him, 'Did you see the show?' and he said, 'Yeah.' And I said, 'Did you enjoy it?' He said, 'It was alright.' That was my first review: 'It was alright.'"
Now he is one of the most performed living playwrights, with a knighthood and 82 plays to his name, including Absurd Person Singular, Bedroom Farce and The Norman Conquests, the latter trilogy about to be revived at the Ensemble Theatre.
After carefully devising his plots and characterisations Ayckbourn writes his plays at lightning speed. These days he completes any subsequent polishing alone, but as a new writer in the 1960s he had to submit to a more communal process that is the bugbear of many a playwright.
"Everybody knows how to write a play," he says, and you can hear the grimace in his voice. "So I got a lot of advice. Everybody weighed in, including the cleaners, and I put up with a lot of stick. Eventually I began to grow in confidence, and now I tend to arrive with my script tucked firmly under my arm for the first read-through, and nothing gets changed.
"There's a story about me – I heard about it later – where I was doing a play at the National [Theatre], and we reached a point in one of my plays, A Small Family Business, where I rather reluctantly agreed to cut half a line, and somebody was heard later to be jumping along the corridor, shouting, 'He cut a comma! He cut a comma!'"
The primary home of his work has always been the Library Theatre in Scarborough, for which he spent 36 years as artistic director and has basically penned a play a year. "Looking back I'd like to think I was incredibly clever," he says, "but I think I was probably incredibly fortunate in coming of age as a writer at a time when the general atmosphere in the country, post-war, was enthusiastic for the arts. And then I found this tiny little makeshift theatre that actually embraced new work."
The trilogy premiered there in 1973, and was innovative because the action of the three plays, Table Manners, Living Together and Round and Round the Garden, is all concurrent, with the same six characters. The action on stage in one play becomes the off-stage events in another. He insists there is no correct order in which to see them, but does recommend seeing them all in one day.
"When we did it at the Greenwich Theatre we had an 11 o'clock and then a two o'clock and then an eight o'clock [show], so there were some long meal-breaks. And because Greenwich Park was just next door with all the beautiful grounds, and it was a sunny afternoon, the actors were out there playing football with the audience, and I thought, 'This is like early theatre! This is really exciting.' Then they went back in, took up their different roles, and people sat back down, and the guy they'd been playing football with a minute earlier was now coaxing a cat out of a tree!"
Having watched the role of women change profoundly during his long career he regards the early plays as documents of their time. Recently he directed a revival that called for a male to put his hand on the knee of a female actor, and the latter asked Ayckbourn why she didn't just punch the offender. Ayckbourn had to explain that it was because the man in question was her husband's boss. "Nowadays," he says, "that's the first instinct of a girl as an actress and as a person: 'Why doesn't she slap him?' In the early productions the girl said, 'Oh, yeah, he's putting his hand on my knee. I'll just move it. Slightly.' So I have to explain the social code of the time."
Nonetheless he's never had any desire to tinker with his early work. "I've grown up and moved on," he says. "People ask me, 'Why do you keep writing?' and I say, "Just in the hope of getting better. I'll get it right, one day.' The other question is, 'What's your favourite play?' and the answer is, 'The next one, because it's perfect at the moment!'"
The Norman Conquests: Ensemble Theatre, November 2-January 12.