Hayes Theatre, October 18
8.5/10
Is A Little Night Music the most timeless musical ever penned? Taking their cue from the Ingmar Bergman film Smiles of a Summer Night, about couples being naughty in 1900 Sweden, its creators, Stephen Sondheim and Hugh Wheeler, looked at hypocrisy with forgiving amusement; as an inevitability. Then they whipped into a froth the key ingredients of flirtation, lust, sex, marriage and adultery. Sin, you see, can be so very civilised.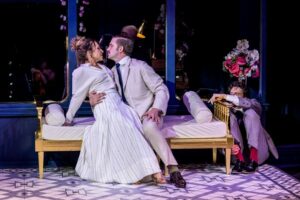 Although this 1973 musical is often found in opera houses, director Dean Bryant's Hayes Theatre production proves that, at heart, it's a chamber work that, like finely engraved silver, prefers being rendered in miniature to being grandiose.
One could argue that Sondheim's Sunday in the Park with George, say, surpasses Night Music as a work of art, but no other musical comes so close to being perfect on its own terms. Therein lies part of the timelessness, alongside the eternal nature of the foibles depicted, the effervescent wit of Wheeler's book and Sondheim's lyrics, the rich characterisations and the music's ageless elegance: a compendium of styles in 3/4 time.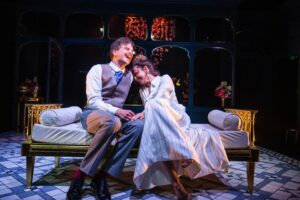 Above all, it's a musical for actors, and Bryant has ensured that no one in his cast muddies the taut, knotty interrelationships. His particular coup was landing Nancye Hayes – she for whom the theatre's named – to play the wheelchair-bound grandmother Madame Armfeldt for the third time in her glittering career. Her performance is a masterclass in trusting the words and playing them with a restraint more usually found in big-screen close-ups. More than anyone on the stage, she finesses her pauses to the microsecond, notably in her centrepiece, Liaisons. About the supposedly more sophisticated sensual delights that existed in her youth, it mixes world-weariness, wisdom, truth, fantasy and revisionist history, and includes the lines, "Take my daughter, I taught her, I tried my best to point the way. I even named her Desiree."
Desiree, an actor, is the protagonist who reignites an old flame, while already having an affair with a volatile cavalry officer whose favourite sport is duelling. Blazey Best joins the noble roster of women (from Glynis Johns to Judi Dench) to play the role and makes it her own. Singing "Isn't it rich?", the opening line of Send in the Clowns, has become as tough for an actor as saying "To be or not to be", but Best shrugs aside all the baggage, and simple lets it live in all its raw candour and emotional complexity.
Leon Ford splendidly plays Frederik, the slightly wet, slightly pompous lawyer whom Desiree can't relinquish, even if some of his sung pauses would benefit from Hayes' microsecond instincts. Joshua Robson just manages to contain his performance as the duelling Carl-Magnus to the scale of the Hayes stage, and is an ideal foil for Ford in sparking much of the humour. Melanie Bird excels as Frederik's overwrought wife (who's a virgin 11 months into their marriage), Anne, as does Erin Clare as Carl-Magnus's infinitely more worldly and cynical spouse, who gives us that exquisite encapsulation of the human condition: Every Day a Little Death. Jeremi Campese, Kiana Daniele and Pamelia Papacosta round out the fine team of principals.
The stripped-down orchestration and Jeremy Allen's simple set are in harmony with Bryant's conception. The jarring element is the sound. The show should be restrained vocally and graceful musically. Instead, the sound was uneven, often too loud and sometimes rather tinny. With this rectified, the otherwise outstanding production would crown a bumper year for Sondheim in Sydney.
Until November 11.